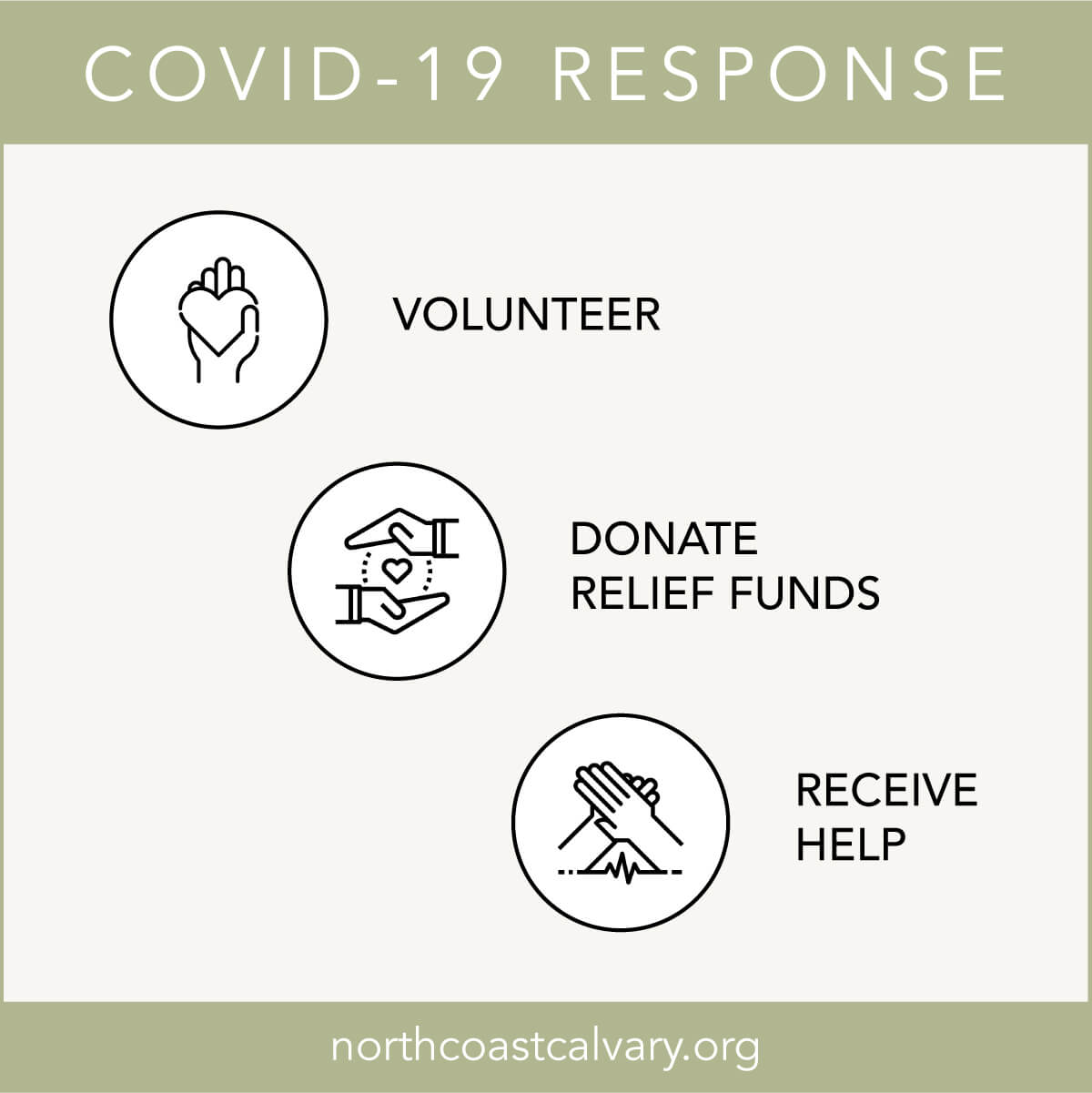 Volunteer
If you are available and healthy to volunteer to help with practical needs such as shopping for groceries or supplies, distributing food, making blankets or to-go snacks, sewing masks and more, please fill out this Volunteer Form.
Emergency Relief Fund – Meeting needs in our community
Please give here to support meeting the practical needs of those in our wider community who need love, support and hope in this time of distress and hardship.
Benevolence Fund – Support for our NCCC family
Please give here to support members of our NCCC family during this crisis.
Resources & Opportunities
If you would like to donate goods or resources we can connect you with our partners and programs happening in response to COVID 19. We are also helping with requests in the community and can assist if you have a need for volunteers. Contact us at MCI@northcoastcalvary.org

Donate Blood
A Message from the San Diego Blood Bank: "The entire country is on the verge of a serious blood shortage that will lead to blood rationing and triage. We need your continued support now more than ever.
We encourage anyone who can to donate blood at a nearby donor center. We have created a code NCCC so people can donate representing North Coast Calvary Chapel.  We have six donor centers throughout the County. Weekend and evening options are available. Visit www.sandiegobloodbank.org/GiveLife or call (619) 400-8251."
Pray
We believe that God hears our every prayer. Whether we cry out to Him in anguish or celebrate in gladness, He is a loving Father who enjoys us sharing the depths of our hearts. 
So let's pray with:
Gratitude, for all He has done for us, and how He loves us.
Hope, a confident expectation that He has good in store.
Intimacy, for those we love and who need a revelation of God's love.
Humility, because He is God and we are not, so when talking with Him we should listen deeply, and speak honestly.
Compassion, for those in our community and around the world who are struggling.
Conviction, that He is the sovereign Lord whose eyes roam across the earth.
Faith, knowing that He who moves mountains and parts the sea will move in power.
Knowledge, that if we pray dangerous prayers like those above, that He will call us to join Him in being part of the solution!
And be praying for:
Healing, for the sick and vulnerable
Wisdom, for our government and leaders
Strength, stamina and encouragement, for our healthcare professionals and essential crisis workers
Provision, for those in desperate need
Love and kindness, to reign during this time