Welcome to North Coast Calvary Chapel. We believe you will experience a service that includes uplifting worship, an engaging message from the Bible, and a warm and friendly atmosphere. Feel free to enter at your pace, but we do invite you to begin getting to know the church, exploring its ministries and looking to get connected.
Please keep in mind that we are available to you, and here are a few jump starters for you:
Saturday Evenings (5:00pm) & Sunday Evenings (6:00pm)
Sunday Mornings (8:45am & 10:45am)
There are programs for children and teens (birth through 12 grade) on Saturday evenings and Sunday mornings.
During our Sunday evening service, we offer childcare (birth through 5 yrs old).
Details: CLICK HERE HERE
Please CLICK HERE for our online Welcome Card to help us get to know you better and
so that we can provide next steps for you.
Next Newcomer's Night: Monday, January 14 —- 6:10pm in our Story Caffe
Site Map
(Details listed below the map)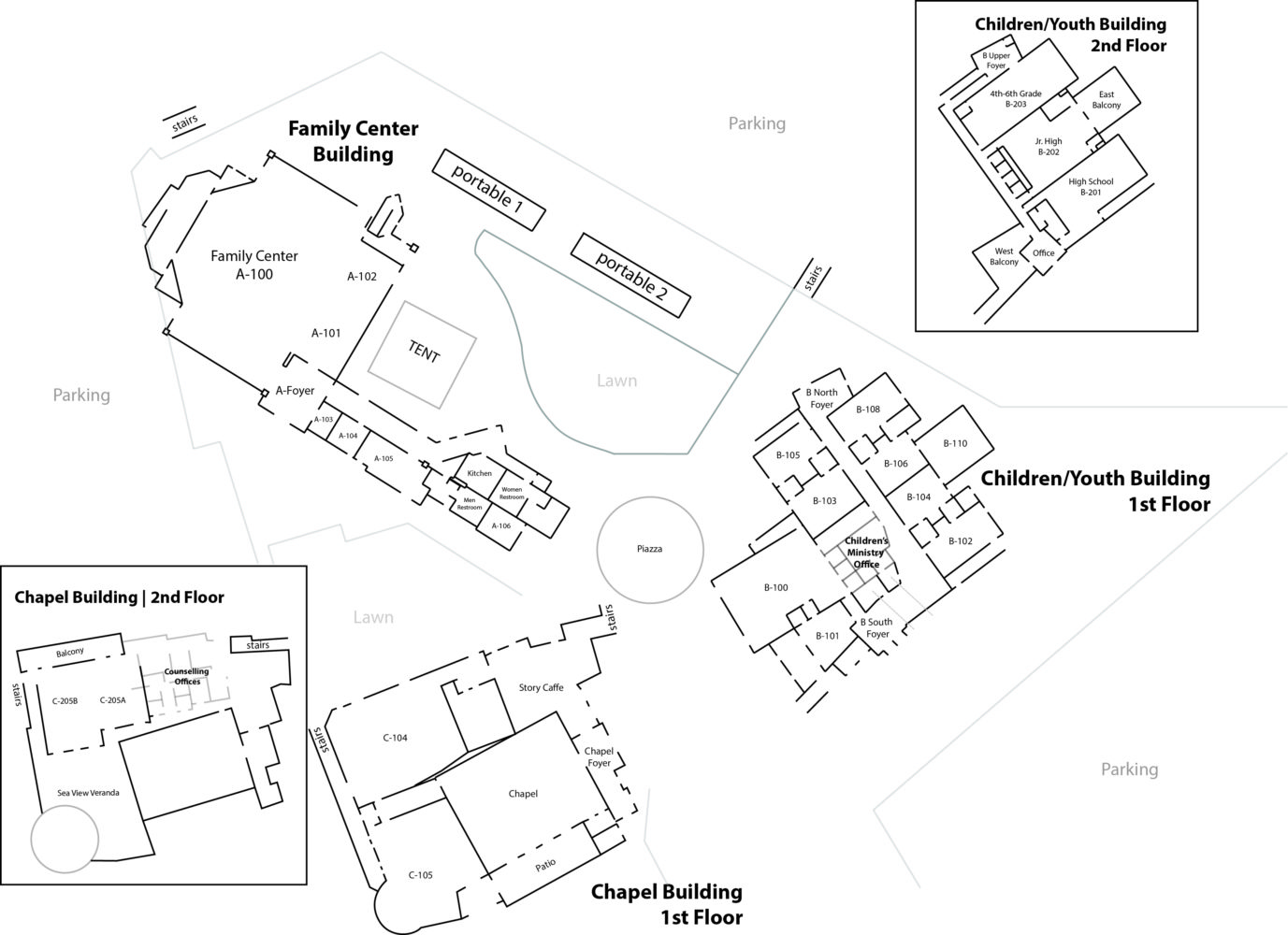 Auditorium Building
A-100-102: Main adult worship services (along with our outside Overflow tent)
A 103: Nursing room
A 104: Nursing Room
A-105: Family Viewing Room
A-106: Infants & Crawlers
Children's & Youth Building
B-100: Jr. High
B-101: Walkers (For children who are developmentally at the walking stage and very mobile)
B-102 / B 104: 3 year olds
B-103 / B 105: 2 year olds
B-106 / B 108: 4 year olds & Pre-Kindergarten (For children who are 4 years old or starting Kindergarten in fall 2016)
B-201: 4th, 5th & 6th Grades
B-202: 2nd & 3rd grade (Upstairs, the middle of the three rooms)
B-203: Kindergarten & first grade (Upstairs last room at the end of the hall)
Chapel Building
C-104: High School (Downstairs)
C-105: Reception Room (Downstairs behind the chapel).
Whole Marriage Class – 3rd Sunday of each month at 10:45am. Single Mom's Fellowship – 4th Sunday of each month at 10:45am
C-205A: (Upstairs by the back balcony) – Sunday Morning Adult Bible Class at 8:45am
C-205B (Includes 205A periodically) – Biblical Training Center 10:45am
Other Important Info
Ministry Info tables: Sat. & Sun. PM in the Family Center, and on Sun. AM out on the piazza.
Children's programs check-in Birth – 6th Grade:
Sat. PM In Building B Lobby,
Sun. AM North & West side of B Bldg. (Children's & Youth building.)
Sun. PM in Rm. B-106
Infant check-in: at the door for A 106.