Devotionals 2020
November 5

20 Days of Promise
Day 20: Why should I let the pressures of life bother me when I can take courage knowing that Jesus has overcome the world and its problems?
"And everything I've taught you is so that the peace that is in me will be in you and will give you great confidence as you rest in me. For in this unbelieving world you will experience trouble and sorrows, but you must be courageous, for I have conquered the world." (John 16:33 TPT)
It's National Election Day as I write this blog. And in the providence of our Father, it is the final day of the 20 Days of Promise. We have never experienced anything like this COVID-19 Pandemic. All normalcy has been taken away, including the way our country chooses it's next president. There is so much tension surrounding this election, so much uncertainty! There are threats of violence if the election does not go a certain way. What? Threats of violence because you don't get your way? Where is the peace? There seems to be no peace. Yet Jesus promises peace because he has "conquered the world."
Even in our cul-de-sac, the political atmosphere is charged with fervor and apprehension. It begs the question, "Will I be alright if the election goes to the candidate I did not choose?" My guess is, based upon their comments, my neighbors won't be alright. But I know, because of Jesus' promise, Marian and I will be alright because we have his peace available 24/7, and because we know that there is no perfect government until Jesus Christ returns and the "government will be upon his shoulders. And he will be called Wonderful Counselor, Mighty God, Everlasting Father, Prince of Peace." (Isaiah 9:6).
My belief and hope is that day is sooner than later. The return of the LORD Jesus Christ has always been the "blessed hope" of His Bride, His Church. And that hope is "the anchor for the soul," says the writer to the Hebrews in the New Testament. Oh my friends, my brothers, if ever we have needed to put our full weight of trust in the sovereignty of our Mighty GOD, it is now. The ultimate outcome is as secure as the Resurrection from the dead of our LORD and Savior Jesus Christ.
Our Heavenly Father's purposes and plans will be fulfilled for us and for Hie entire creation. All creation is "groaning," Paul says, waiting "eagerly for the revealing of the sons of GOD," when Jesus returns to rule and reign over all His creation made new again. Today is a big day. But the Bigger Day is about to dawn. So, brothers, choose joy, "stand firm in the faith, act like men," and let love guide every word and deed today. Maranatha! Bless you!
October 29

20 Days of Hope: Day 19
Why should I feel like a failure when I am more than a conqueror through Christ who loves me?
"Yet even in the midst of all these things we triumph over them all, for GOD has made us to be more than conquerors, and his demonstrated love is our glorious victory over everything." (Romans 8:37 TPT)
"No, despite all these things, overwhelming victory is ours through Christ who loved us." (Romans 8:37 NLT)
Marian and I recently returned from an Epic Road Trip through Nevada, parts of Arizona, i.e.. the North Rim of the Grand Canyon, the canyon lands of Southern Utah, Idaho, and Wyoming to see the Grand Tetons. It seemed that around every bend was an even more breathtaking scene of the majesty and beauty of GOD in His creation. Our jaws literally dropped over and over again. We saw His beauty and glory displayed through what He has made. His power and majesty are Awesome.
Despite car trouble, our GOD took care of us. Life is full of beauty but also trouble, even in the midst of beauty. The late Tim Hansel in his book, You Gotta Keep On Dancin says, "Trouble is inevitable, misery is optional." Trouble doesn't define us. It comes to everyone. How we deal with it defines who we are at a core level. We choose joy or misery.
Paul knew trouble and he was not exempt from its tentacles. In this passage he names the various shadows of trouble that dogged his steps: persecution, hunger, destitution, danger, death itself. And yet he confidently says that in the midst of these troubles, we can triumph over them through the power of Christ's love for us. In other words, Christ's love through his death and resurrection conquers all and everything. Because of the power of Christ's love, nothing can separate us from him: death, life, angels nor demons, fears for today nor worries about tomorrow, GOD has us secure in his love, so that our faith gives us "overwhelming victory over everything." So why should I ever feel like a failure? Why should I agree with my sworn enemy, the accuser of my life, the liar when he says, "you are such a loser, an utter failure!"
The trouble comes when I do make an agreement with the devil and my eyes shift from looking at Jesus Christ the Conquering KING, and turn to look at my weakness and let go of the anchor of my soul, HOPE! So today, if you have let hope slip away because of an agreement of failure, break the agreement in Jesus' Name by His authority and tie your soul once again to His love for you. You are who He says you are: an overwhelming conqueror through your faith in the finished work of Jesus! Bless you, men. Be strong and courageous! The LORD is near! Nearer still.
October 2
20 Days of Promise:  Day 18
Why should I be confused when GOD is the author of peace and he gives me knowledge through His Spirit who lives in me?
"There is a wisdom that we continually speak of when we are among the spiritually mature. It's wisdom that didn't originate in this present age, nor did it come from the rulers of this age who are in the process of being dethroned. Indeed, we continually speak of this wonderful wisdom that comes from GOD, hidden before now in a mystery. It is his secret plan, destined before the ages, to bring us into glory. None of the rulers of this present world order understood it, for if they had, they would not have crucified the LORD of shining glory." (1 Corinthians 2:6-8)
"For we did not receive the spirit of this world system but the Spirit of GOD, so that we might come to understand and experience all that grace has lavished upon us." (1 Corinthians 2:12)
"For GOD is the GOD of harmony, not confusion, as is the pattern in all the churches of GOD's holy believers." (1 Corinthians 14:33)
Let's face it, everything seems to be in this confused and chaotic state. The quality of leadership among our political representatives is at an all-time low. Now we face an election where so much is at stake. How do we quiet all the noise and make room for the "still, small voice" of the Spirit when all our devices are clamoring for our attention with beeps, pushes, notifications and urgent messaging?
It is so easy to be pulled into the insanity until we stop…..and get back to the ancient path and hear Jesus say, "this is the way, walk in it." I'm finding that as I remember the larger story, I can more easily detach myself because I know from Scripture that GOD has me and everything completely under control. It's like Joshua's encounter with the pre-incarnate Christ on the Jericho road. Joshua sees a Warrior with a drawn sword standing before him, and he asks, "are you for us or against us?" GOD answers, "neither, I am commander of the Lord's army." Joshua responds correctly and hits the ground worshipping and asking, "what message does my LORD have for his servant?"
We have GOD's wisdom given to us in the scriptures. We have the author of Life living within us. We have the Spirit of GOD, the GOD of harmony, not confusion. So LORD, lift my eyes above the fray to the larger story, the story of Jesus who will bring all things back under His control, and will then present it all back to the Father. Brothers, lift up your heads! Your Deliverer is about to make His grand entrance. Nobody will miss it.
September 23
20 Days of Promise: Day 17
Why should I feel helpless in the presence of others, when I know that if God is for me, who can be against me?
" So what does all of this mean? If GOD has determined to stand with us, tell me, who then could ever stand against us?" ( Romans 8:31, TPT)
I have to admit, when I first started thinking about this question, I confused myself. I struggled with it, and it was the word, "helpless" that was throwing me off. I don't want to be helpless. I want to be strong and to look good. And that is exactly the problem. When the story keeps being centered on me, it's a small story. I want a bigger story, to be caught up in a BIG STORY. It doesn't get any bigger than the story of Jesus Christ! All I need remember is that GOD is for me. If He is, and that is an undeniable fact based upon the truth of the Cross and Resurrection. In that light, the light of His glory, the opposition gets smaller and smaller.
The context of this great verse in Romans 8, is that all creation is waiting "on tiptoes" for the coming of the Kingdom of GOD and the revelation of the sons and daughters of GOD when The King returns to lift the final evidences of the curse. This includes giving us the "full status as GOD's sons and daughters, including our physical bodies transformed. For this is the hope of our salvation. But hope means that we must trust and wait for what is still unseen." (Romans 8:23-24). So the confident assurance of hope comes from the Holy Spirit taking hold of us "to empower us in our human weakness." (verse 26). We don't even know how to pray or what to pray for! No problem, the Spirit who knows the mind of the Father because He too is GOD, knows how to pray for us at such a deep level words are unnecessary. He groans and sighs for us are for the will of GOD to be done in us. And here is the kicker, "GOD has determined to stand with us," His sons and daughters, even if we don't feel like we are even connected very well to Him! He goes before us. He follows behind us. He surrounds us with His presence. And if Paul could boldly declare to the unregenerate Athenians on Mars Hill when he found common ground around their worship of "The Unknown God,"Let me tell you about Him. It is in Him that we live and move and have our being." How much more confident are we, His sons and daughters, as we declare, "If GOD has determined to stand with us, tell me, who then could ever stand against us?" Nothing and no one!
So let me get real with you. I was having lunch today to catch up with some old friends who are sons of GOD, warriors who are strong and mighty. After eating we started sharing about what is going on with us, and how has COVID19 affected us. When it came to me, I started telling about my "helplessness." I was talking about my fears and where I stood based upon the untruth that others held power over my life, until one of them just said, "stop it! Who is ultimately in control of your life?" When I returned home to debrief with my wife, I admitted, my go-to assessment of me is my dwelling on my helplessness and not upon the BIGNESS of GOD. He is in control. He is causing "all things to work out for the good" for me. He "has determined to stand" with me. Now tell me, is that a fair and even fight? "Who can stand against me?" Jesus Christ, KING of kings and LORD of lords is about to make His grand entrance onto the stage of life. All creation is on their tiptoes waiting to see all the glory that is about to burst upon the scene, and we get the Grand Prize behind door # 3, the transformation of our physical bodies that will house our perfectly redeemed and restored self; spirit, soul, heart, mind and will. Then we enter into the fullness of the Kingdom of GOD to hear, "Well done!" Brothers, it doesn't tire me to remind us to put our hopes and dreams on Jesus. Draw strength from Him, His Spirit, and your brothers. And remember who is in control; the One who has determined to stand with us!
If you are not connected with other men in a small group of brothers, call or text some friends and invite them to coffee to talk about Jesus, the Kingdom of GOD, and how we can serve others.
September 9
20 Days of Promise Day 16
Why should I feel worthless when Christ wore sin for me so that I might become the righteousness of GOD in Him?
"For GOD made the only one who did not know sin to become (wear) sin for us, so that we who did not know righteousness might become the righteousness of GOD through our union with him." ( 2 Corinthians 5:21 TPT)
Let's face it, I am my worst critic, and once I sin, I am the most unforgiving of myself. I guess I am the classic "glass half full" guy. I remember a time when Marian, my wife of 50 years, overheard my negative self talk as I declared, "you idiot! What a knucklehead!" I am too quick to go to the dark side to berate myself. When I choose to do that, I continue to live in the "smaller story," as John Eldredge puts it. There is a wound from the past that is slow to heal. And I sometimes forget to "armor up" leaving an opening for the lying voice of Eden to condemn me and I agree with his false assessment. The image of God comes once again under the assault of the enemy of my soul. "You call yourself a christian?" I then follow in the steps of my ancient ancestor and go downhill and hide.
But this portion of scripture, and this verse in particular, is phenomenal. The truth is louder than the unbelief. I am living in The Passion Translation these days because familiar passages, living as they truly are, have a new breath of life as I read them. My defenses are down, and the Word of God is hitting me square between the eyes and tenderizing my heart! In particular, look at this study note for 2 Corinthians 5:21from The Passion Translation. "This one verse is perhaps the greatest verse in the New Testament to describe our salvation through the sinless Savior and his substitutionary death on the cross. A wonderful divine exchange took place at the cross. All of our sins were left there, our guilt was removed and forever gone, and we walk away with all of God's righteousness. What bliss is ours! Every believer today possesses the perfect and complete righteousness of Christ. We are seen by the Father as righteous as His Son." (Italics mine).
Did you get that child of GOD? That is the truth that will dispel the devil and his demons every time! The point is, who are you going to listen to, the liar or the One who wore your sin on the cross? So take up your cross today. Rejoice in the LORD, and give thanks that the Cure, the vaccine, is free and readily available. Armor Up, son of GOD. Fight the good fight. Just like a Navy SEAL, "you are never out of the fight." Bless you, Man of God!
August 12
20 Days of Promise Day 15
Why should I be unhappy when I, like Paul, can learn to be content whatever the circumstances?
"For I'm trained in the secret of overcoming all things, whether in fullness or in hunger. And I find that the strength of Christ's explosive power infuses me to conquer every difficulty." (Philippians 4:13 The Passion Translation).
The question keeps coming to mind during this season, "What am I supposed to learn about myself and about You, LORD?" One thing I've learned about me is that I have come to the end of myself and my ability to figure any of this out! So, for me the answer is found in this passage in Philippians. What I am supposed to learn is Contentment in whatever daily circumstance I find myself. Whether I have enough, too much or too little, I can trust my heavenly Father that His plans for me and my family will be fulfilled, and the LORD Jesus Christ's life in me through the Holy Spirit can and will conquer every difficulty as I trust Him! What freedom this creates! And now I can focus on the divine appointments standing right before me.
For the past 21 weeks, there has been a live music concert put on in our cul-de-sac for our neighbors and invited guests. My neighbor began the work. I have played a number of times, as have others. This past week and weekend were especially stressful. We, as a staff, are trying to plan for 2021, not knowing what the next day will hold. There is no solid footing except in Jesus. I was asked to speak and do music at the Celebration of Life service for Tom Rice on Saturday. I performed an hour and a half concert on Saturday night for my neighbors, and then led worship on Sunday morning at the Gathering. Through it all, I practiced the Spiritual Discipline of benevolent detachment by "giving everyone and everything to Jesus," including myself. I had to let go and in letting go, I experienced "the secret of overcoming all things" through "Christ's explosive power" as the Spirit ushered in Jesus through me. Check out "One Minute Pause" app by John Eldredge, author of Wild at Heart, one of my all-time best reads about the heart and soul of a man. It will help you learn how to let go based upon scripture.
I still had a part to play in all of the circumstances. I had to show up. But under my breath I kept repeating that prayer, "LORD, I give everyone and everything to you. I give myself to You for union with You. I was made for union with You. I need more of You, God. Fill me with more of You." So what happened? Well I'm still trying to plan and everything is still fluid! I literally experienced the "peace that passes all understanding" while serving at Tom's memorial. Following the concert, the dad of one of my neighbors pulled me aside and said, "Buz, I'm a lifelong atheist. But your final song about Jesus, touched me deeply." And even though I made some mistakes on the first song at the Gathering on Sunday morning, the LORD was amazingly present as we closed the service with the same song I had sung the night before!
Here's the deal, there is an important step we often overlook in the process of learning to trust GOD. That step is clearly laid out in our passage of scripture: to commit to be "trained." Discipleship is a lifelong commitment, not to a religion, but to the Person of Jesus Christ. Our part is to follow closely and trust Him completely. His part is to strengthen us with His "explosive power." He has overcome everything. By following without turning back completely, we are called "overcomers."
So, are you ready, brother, to accept the challenge to be trained? Are you ready to purposefully step into a more committed discipleship process? Iron sharpens iron best in a small group of men who are committed to the process of becoming more like Christ by committing themselves to one another. The command is continue "building yourselves up in your most holy faith." (Jude 20). That's how we "keep ourselves in the love of God!" No man is an island. We need our brothers.
If you are ready, send me an email. We will help you plug into a group of men with the same goal: Christlikeness. Then watch how quickly life becomes the great adventure the LORD intends for it to be. Better yet, ask some brothers to join you. Commit yourselves to the process. It's what Men's Ministry should be about. New groups and discipleship opportunities are starting this fall. Let me know if you are in. JESUS IS COMING!
August 5
20 Days of Promise
Why should I feel like I'm cursed or the victim of misfortune when the Bible says that Christ rescues me from the curse of the law that I might receive His Glorious Spirit of faith and freedom?
"Yet, Christ paid the full price to set us free from the curse of the law. He absorbed it completely as he became a curse in our place. For it is written: 'Everyone who is hung upon a tree is doubly cursed.' Jesus, our Messiah, was cursed in our place and in so doing, dissolved the curse from our lives, so that all the blessings of Abraham can be poured out upon even non-Jewish believers. And now God gives us the promise of the wonderful Holy Spirit who lives within us when we believe in him." (Galatians 3:13-14, TPT)
"Let me be clear, the Anointed One has set us free, not partially, but completely and wonderfully free! We must always cherish this truth and stubbornly refuse to go back into the bondage of our past." (Galatians 5:1, TPT)
"If the LORD YAHWEH rescued Lot, he knows how to continually rescue the godly from their trials and to reserve the ungodly for punishment on the day of judgment." (2 Peter 2:9, TPT)
"But thanks be to God who always leads us in triumphal procession in Christ and through us spreads everywhere the fragrance of the knowledge of him." (2 Corinthians 2:14, NIV)
One of my favorite authors is John Eldredge. His book, Wild At Heart should be on every man's "Must Read" list. Because with words, he describes the Gospel of Christ and the rescue of all creation in the grandeur befitting the Greatest Story Ever Told! There is warfare and battle. There is a beauty to be rescued. And the tales of adventure and danger are the stuff of which legends are made. Our LORD Jesus Christ is the Hero, the Champion who endures great suffering and seeming defeat only to rise in power and greater glory that changes everything! But before his passion of trial, temptation, darkness, defeat, and overcoming victory, he gathers his little band of desperados and tells them ahead of time, that they too will be tried and tested, beaten and bruised simply because they followed him. But, "take heart," he says, "I have overcome the world"….and through your faith in me, you will also be overcomers!
So before he goes through his greatest trial as all the forces of hell unleash their fury on him through beatings, torture and the Cross, he prays. He prays for his bandmates, including the women! But he also prays for "those who will believe in me through their message." That's right, he prayed for you and he prayed for me. He prayed for us because he knew the same enemy and his hordes, though beaten and defeated, would come after us like a wounded animal. And we would need to armor ourselves with his armor: salvation, righteousness, truth, peace, faith, and the Word of God. Listen to this: "I pray…that all of them may be one, Father, just as you are in me and I am in you. May they also be in us so that the world may believe that you have sent me. I have given them the glory that you gave me, that they may be one as we are one: I IN THEM AND YOU IN ME." (John 17:20-23a, NIV).
Brothers, he broke the slavery chains of the curse of the law which tied us down to live small lives! He has rescued us and set us free to step into the roles the Father has predestined us to live in him. And all creation is now groaning and being held back under the weight of that curse, waiting for the revelation of the sons of God. Then we will step into the full revelation of the KINGDOM OF GOD with a redeemed new heaven and new earth. The old will be gone because the new has come. We will celebrate HIM and tell stories of the conquests of our Conquering KING. We will hear HIM say, "Well done…Well done you brave men of the KINGDOM OF GOD."
But not yet…now we step into each day with joy and thanksgiving "to God who always leads us in triumphal procession in Christ." And as we yield our will to HIM, we will experience the Glorious Spirit of faith and freedom. Men, don't shrink back onto slavery and fear. Step into the fullness of your freedom in Christ!
July 22
20 Days of Promise Day 13
Why should I feel alone when Jesus said He is with me always and He will never leave me nor forsake me?
"And surely I am with you always, even to the end of the age." Matthew 28:20
"Never will I leave you, never will I forsake you." Hebrews 13:5
During this COVID-19 shutdown, have you felt like GOD is distant, has it seemed like your prayers have fallen on deaf ears, that the trail ahead is steep, dark, and you don't have a PETZEL headlamp or compass? Yet, this experience is so far removed from REALITY! Our eternal, all-powerful GOD is closer than our skin. The very air we breathe is His Presence. We "live and move and have our being in Him," Paul says, and he was speaking to the unbelieving, yet seeking Athenian philosophers on Mars Hill. I've stood on Mars Hill and looked up at the Acropolis and down upon the ancient city and remember breathing a prayer under my breath, "LORD, You are here! I live in You. I move in rhythm with You. My being is in You! Where can I go to escape You? If I climb Mt. Everest, You are there. If I dive to the depths of the Marianna Trench or the La Jolla Canyon off Black's Beach, LORD YOU ARE THERE!
Yet my circumstances, my little "r" reality often lie to me, and then my sworn enemy chirps away, "see, He isn't here! Where is the promise of His coming? Everything remains as it always has been. You are in this life, alone. You have no control over what happens to you. He doesn't even care, if He did, He would be here, wouldn't He? He would change your circumstances! It will never be like it was." Do you see how the devil twists truth to cause us to doubt what our FATHER, HIS SON, OUR SAVIOR, and the HOLY SPIRIT have declared to be our big "R" Reality? Because GOD IS GOD, He need only say it once, "I am with you always." Yet because He spoke everything into existence, His creation continually shouts, "HE IS HERE!" Creation groans for the revelation of the sons and daughters of GOD! We groan in the darkness as everything within us cries out "Oh LORD GOD, how long?"
The crescendo of everyone and everything is building until all HE has made will \burst forth in unison crying out, "Come, LORD JESUS, Come!" Hold on, dear ones, beloved of God! For all that HE has promised must soon come to pass! Behold, HE is at the door and is about to make HIS grand entrance upon the Stage HE created! Everything that is wrong will be made right! All that we have hoped for, prayed might come to pass is coming. NOTHING CAN STOP HIM! HE will renew, restore, and make everything NEW again! Everything is readyI The KINGDOM OF GOD is dawning. Heaven is coming to a new earth. "Behold, I am coming soon! Blessed is he who keeps the words of the prophecy in this book!"
July 15
20 Days of Promise
"Therefore, there is now no condemnation for those who are in Christ Jesus, because through Christ Jesus, the law of the Spirit of life has set me free from the law of sin and death." Romans 8:1-2
I don't know about you, but the isolation as a result of the Stay at Home order is bringing a lot of negative feelings to the surface. I'm finding that my reaction time is much shorter than last March. When I negatively react to comments or situations, my ramp up speed from zero to 60 is supersonic! Then the other voice we all know all to well begins to chirp. If I turn my ear to it and linger there too long, I drop into the self-condemnation zone and the downward spiral begins. It feels like an airplane that goes into a stall after climbing to the heights. It doesn't take long to reach terminal velocity.That is just the place where the enemy of our soul lives and breathes. What makes matters worse is when we begin to agree with the chirping, join in the chorus, and the self flagellation begins.
Self condemnation can drown out the still, small voice of the Spirit of God. Sometimes it takes a brother who is willing to armor up and enter the fight to bring us back from the brink. The beauty of the promise is that my position and place before the Father and in His Kingdom never changes. It is unassailable. Nothing can shake it, diminish it, or dismiss the pronouncement of the Father over me that I am eternally His son, made in the Image of Jesus, His Son. My sin that fuels all my negative reactions and responses was condemned and judged when it was placed upon Jesus as he hung on the Cross. I "have been crucified with Christ!" The eternal, unchanging Word of God declares that I "no longer live." But now, Christ lives in me. So if I died, I died to the law with it's condemnation over me. Now, through Christ's resurrection, I live in a new Condemnation-Free Zone. In this new zone, the Spirit who is Life and shares Life with the Father and the Son, shares that Life with me…and you.
May we truly live the Life today by bringing no condemnation upon ourselves or those being brought closer to us in these unprecedented times. Live free and love well, my beloved brothers.
July 8
"Now the Lord is the Spirit, and where the Spirit of the Lord is, there is freedom."
2 Corinthians 3:17 NIVUK
"It is for freedom that Christ has set us free. Stand firm, then, and do not let yourselves be burdened again by a yoke of slavery."
Galatians 5:1 NIVUK
Why should I ever be in bondage knowing that there is liberty and freedom where the Spirit of the Lord is?
That's a good question, and yet we find ourselves going back into old habits and default reactions to life! I'm talking about my life here. Because of messages from my childhood, un-erased and readily available whenever I, or the enemy of my soul, hit PLAY, I can find myself back in bondage in a heartbeat. The hook of the moment may have been removed with it's barbs. But the scar remains and the enemy knows just when to hit my buttons. Sound too familiar? I thought so.
But the patience of the Father never wears thin. In fact, His mercies never run dry. The riches of His grace can never run out. Our Great High Priest, the LORD of GLORY, Jesus the Messiah and Savior of all men and women, has been tempted just as we are, and He did not sin, not once. So that we can now walk in the freedom always intended for us, the sons of God, and Men of the KINGDOM. How do we do this? We do this through continually surrendering to the Presence and Power of the Holy Spirit who is the Spirit of Jesus, and who dwells within us, guaranteeing the inheritance promised to us in the Scriptures! In Romans 5:4, Paul speaks to our condition today when he says, "For everything that was written in the past was written to teach us, so that through the endurance taught in the Scriptures and the encouragement they provide, we might have hope."
So Men of God, do you need encouragement to join in the dance of freedom in the Spirit today? "Praise be to the Name of God for ever and ever! Wisdom and power are His!" (Daniel 2:20). May you be blessed in Jesus today, and may your love abound more and more through Him who loves us and gave Himself for us! Now, get back in the fight! Bless you
June 29
"Why should I worry and be upset when I can cast all my anxiety on Christ who cares for me?" (1 Peter 5:7). This verse is one of the verses that I pray each morning during my Quiet Time. Usually it is a sweet reminder of Jesus' wonderful carefulness over my life and the lives of my family. It tastes smooth like the purest honey from local hives; the perfect nourishment for my soul. But for the past few days, the promise has been swallowed with difficulty. The Word has been anything but smooth and sweet. It has been bitter in my mouth because my experience has been anything but worry-free! Yesterday, the LORD's DAY was filled with anxious thoughts and a foreboding sense of depression settled over my thoughts like some dark, cold fog.
It was all I could do to cry, "LORD Jesus Christ! Have mercy on me." Every time I came to the surface to grab a breath, I was pushed back under the torrents of worries, anxieties, and fears. GOD where are you? I'm drowning here! Come! Throughout yesterday, my prayers felt more feeble, weaker. less sincere, as with each breath I repeated, "Jesus, I give everyone and everything to you. I give everyone and everything to you. I give myself to you, Jesus, for union with you. I was created for union with you. I need more of you, GOD! Fill me with more of you." The final prayer under my breath last night, as I lay with my head on the pillow and turned out my light, was to give it all to Jesus once again.
This morning I read Psalm 22, and when I came to verse 5, I remembered our son, Chris, reading this to us in the car after visiting his brother who was clinging to life after a fall from a 100 ft. cliff in Mexico. "The waves of death swirled about me; the torrents of destruction overwhelmed me. The cords of the grave coiled around me; the snares of death confronted me. In my distress I called to the LORD; I called out to my God…he heard my voice." Once again weeping was turned to rejoicing. The new mercies of God were waiting there for me. The LORD flooded me with newfound joy and strength, HIS strength. For this is HIS day. HE made it and invites me to join HIM on the journey. HE never left me. HE had been there the entire time. Today my steps are a bit steadier as I step with HIM. I was saved by grace through faith. Even though my faith was the size of a mustard seed, the mountains moved.
If you are feeling under it in any way, reach out! There is counseling help available. Benevolent help is available. Prayer support is available everyday at 12 noon via Zoom. Reach out. Take the step. We are all in this together. If one hurts, we all hurt. If one rejoices, we all are blessed. Bless you, Kingdom Men.
June 22
20 Days of Promise: Why should I be depressed when I can recall to mind God's loving kindness, compassion, faithfulness and have hope? (Lamentations 3:21-23). This is exactly the place Jeremiah finds himself as he weeps over the sin and destruction of Jerusalem. He witnesses it. He lived it and his heart was broken, his spirit shattered, and he was depressed. But he did not stay there because his identity was not based upon whether or not the people responded to the message God gave him to speak!
There were no massive conversions, no giant altar calls. In fact, it would seem no one responded! It would seem, based upon the numbers, that Jeremiah was a complete failure! But numbers never have and never will be an accurate measure of anything in the Kingdom of God. God's measure of success is…..obedience to His commands and faithfulness to the call; and we all are called!
Jeremiah knew affliction, bitterness and yet this is what he chose to recall and think about, "Because of the Lord's great love, we are not consumed, for His compassions never fail. They are new every morning: GREAT IS YOUR FAITHFULNESS!" Because He is faithful, His Spirit in me, the very life of Jesus will produce faithfulness in me.
Brothers, it's ok to feel depressed now and then. Welcome to the real world! But don't stay there. Then the enemy starts chirping, "if God really cared, he would….You call yourself a Jesus follower? You worthless piece of Garbage! Look at that guy, you don't even measure up."
Brothers, wake up! We're at war! Do you think the enemy lobs NERF bombs! No, he tries to strike at the core of our identity…Made In The Image of God, A Child of the KING! Yes, mourn, wail, cry out in frustration! But only allow yourself 15 minutes, (that's what a very good and Godly counselor once told me). Then, tomorrow morning His mercies are new and Great will be His faithfulness toward you! So tonight, get it all off your chest with your Father. Give everyone and everything back to Him. Let Him renew your union with Him. Cry out for more of Him. Then rest in the love of Jesus and awaken with thankfulness on your lips. I'm in this with you, living in this beautifully messy time with you, "looking to Jesus" as we run with endurance and faithfulness. Love you. Bless you.
June 19
20 Days of Promise: Why should I lack wisdom when I know that Christ became wisdom for me from God, and God gives wisdom to me generously when I ask? (1 Corinthians 1:30; James 1:5). Remember the story of blind Bartimaeus in Mark 10:46-52? Jesus has left Jericho and was on the road up to Jerusalem to celebrate Passover. A crowd followed Him and the disciples, and it was noisy! Bartimaeus was sitting alongside the road, begging. He heard it was Jesus coming up the road so he cried out with all the strength he could muster, "Jesus, Son of David, have mercy on me!" People told him, "Be quiet!" He shouted even louder, "Son of David, have mercy on me!" And Jesus stopped because He heard the depth of his cry. When Bartimaeus heard Jesus was calling him, he threw off everything he owned and came to Jesus who asked him a question, "What do you want me to do for you?"
We are 90 days into sheltering at home. The noise of our "busyness" has quieted, but the noise of fear, anxiety, and the noise of our enemy is swelling to a roar! But when we cry out from the depths of our deepest desire, "Jesus! Son of David have mercy on me!" The Shepherd calls out "Peace..Be still" and then…the still, small voice, "What do you want me to do for you?" I am so used to asking Him that question, and so adept at filling the air with my words, that I struggle with the obvious. Jesus is the "Power of God and the Wisdom of God." "What do you want me to do for you…Today?" Men, you are stronger in Jesus than you know! You are doing great. Be strong. Stand firm in your prayers. Bless you.
June 17
What God has been teaching me through this experience
Brandon Cass
Controlling, irritated, trying to fix, anxious, stressed, helpless…these are a few words to describe some of the feelings I had in early March as the world became unraveled. As a husband, father of 3 boys and business owner serving the public, I wanted everyone around me to be "ok". It soon became evidently clear to me that the COVID-19 pandemic was affecting me as well, whether I wanted to believe it or not.
The first thing that God taught me was to let go of control. I needed to allow my wife to grieve and process the experience the way SHE needed to, in her own walk and intimacy with Jesus. I had no place to try and "convince" her of how she should be thinking about the pandemic. The Lord gave me an empathetic heart and convicted me to listen and love those around me.
My tendency in life is to be a "doer", "make things happen". I soon felt a burden to be reaching out to as many people as I could, to check in on family, friends and clients. While this desire was good, the Lord told me to rest and stop "performing". This was tough for me! I felt like I should be praying all day, reading scripture throughout the day and being of service to the body of Christ and the lost. Wow, what a burden to carry! I clearly thought very highly of myself and kingdom capabilities. God was teaching me the importance of solitude and to be still. (Psalm 46)
God reminded me of the importance of having Men devoted to Christ, in my life. When COVID-19 hit, I was part of an existing group of men going through Chuck Olson's "Rock Solid" program. (Lead With Your Life) We had already been meeting every other Thursday night virtually when all this hit. We were able to process things together, share our fears and encourage one another in the Lord. Additionally, it has been refreshing to be in communication with other Christian brothers to lift one another up throughout this process.
Family. I cherish my wife and sons the Lord has given me. Our little family is tighter than ever. God has reminded me of His incredible gifts during this season of life.
Lastly, I am more aware than ever of the importance of having spiritual disciplines and a life of devotion to the Lord, daily. I've realized there is a big difference between devotion and performance. Performance is all about "me", where a life of devotion and implementing spiritual disciplines yields to "He". Spiritual reserves become increasingly important when trial, chaos and fear strikes. It's not about "rising to the occasion" when trouble hits, it's a matter of stepping onto the field and playing the game after all of the practice that has been put in. Allowing Jesus to call the plays and yielding to His leading. If we haven't been practicing, we won't be ready for the occasion or to hear His voice.
I am humbled and deeply troubled by all that has transpired in our nation, in our world. I take heart in knowing that God has a plan in all of it. He lays it out in His word. We all deserve eternal judgement yet Christ took the place of our sin on the cross. Wow, the reality of this is sobering! Let us be the light of Christ to our family, friends and community. I thank the staff at NCCC and community for their leadership throughout this process. Come, Lord Jesus!
June 12
20 Days of Promise: Why should I allow Satan control over my thoughts any longer because greater is He who is within me than he who is in the world? That's right, the mind is a battlefield. All of us are experiencing the call of God to go deeper with Him during this time, this season. Everything is being shaken. But He who is immovable is calling us to the place of great rest in Jesus Christ, our Lord. So it makes perfect sense that when we try to quiet our hearts and minds to listen and hear our Lord's voice, the enemy, the one who comes to kill, steal and destroy the image of God within us, screams accusations and lies to cause us to doubt our true identity. But greater is He who is in us! He won, we win in Him.
All authority has been given to Jesus who now commands us to go in His Name. So…in the Name that is above all other names, and before Whom every knee will bow, we command all other voices to be silent so that we may hear the Voice of our Good Shepherd. That's how we fight our battles and take every thought captive to the obedience of our Great Shepherd. Lean in hard to Him. He calls us "overcomers." Listen….draw near….He is near us, within us, surrounding us. Love you, Men of God!
June 10
Straight Line
by Bob Bekins
May 2020
My bedside Bible has 1,094 pages. As I write this, it is 2:51 AM. Often I awake about this time worrying about my work, my clients, my country, and the state of the world. I do two things. First I make a half peanut butter sandwich, pour a half glass of milk and take small bites and sips. Then I read a Psalm, a second bit of the Old Testament, and a few verses of the New Testament.
Tonight I am on Psalm 117, the smallest chapter in the Bible. It is also in the center of the Bible on page 544. The older I get, the more complicated I find God to be in all but one area, his love for us
"Praise the Lord, all you nations;
extol him, all you peoples.
For great is his love toward us,
and the faithfulness of the Lord endures forever.
 Praise the Lord."

It is said that the shortest distance between two points is a straight line. That may be true but it is not always the easiest or simplest. The shortest distance between Fallbrook and San Clemente takes you through some pretty rough country. That is why I like Psalm 117. It is the expression of the shortest distance between us and God. He is complex beyond our imagination, but his message is simple. "If anyone hears My voice and opens the door, I will come in and dine with him, and he with Me."
It never ceases to amaze me that He wasn't just an astro-physicist, he created the vast star systems. He wasn't just a biologist, he created every living being. He wasn't just God, he came to earth and lived as any other man for 30 years. He was everything and then became a nobody for me, for my sake. Yet, this Jesus wants to have lunch with me? That is mind blowing.
June 8

Faith
by Bob Bekins
May 2020
Every time I get on an airplane, I am trusting the company that made it. If I work for that company there is faith that there will be a check on payday. If there are military sales, there is the understanding that the government will pay up when the bill comes due. So, where is God in all of this? He is right there in the middle of all of it. He and I have something in common; we are both right there in the activity center. When I put my trust, faith, and understanding in Him, then I am in the sweet spot of the Lord's will.
When things are going along well in life, it is easy to stay in that comfortable spot. How about when chaos begins? The planes don't fly, the company lays off its workers, and the paychecks stop. How then do we think of the Lord? Then the need for courage shows up. Courage is not the absence of fear; it is the moving forward despite the fear. By ourselves this is hard. Alone it is almost impossible. Remembering The One who is with us makes it doable. Courage comes from trusting Him, having faith in His plans, and understanding how He wants us to perform in the midst of chaos. Just ask Him. He is standing right next to you.
Joshua 1:9 "Have I not commanded you? Be strong and courageous. Do not be frightened, and do not be dismayed, for the Lord your God is with you wherever you go."
You can dance in the eye of a hurricane if you move with it.
May 27
If you're doing our church's 3 year reading plan, you'll know that we have been reading Leviticus. Many Christians find it a little irrelevant to our modern life. To confess, I think so too sometimes! But I found a little gem in Chapter 19 the other day:
13You must not oppress a neighbor or rob him. The wages due a hired hand must not remain with you until morning. 14You must not curse the deaf, or put a stumbling block in front of the blind, but you are to fear your God. I am The LORD. 15You must not act unjustly when deciding a case. Do not be partial to the poor or give preference to the rich; judge your neighbor fairly. 16You must not go around spreading slander among your people; you must not jeopardize your neighbor's life; I am The LORD.
There is a lot of amazing stuff in that passage. Several sermons could be preached on this little passage alone. What jumped out at me? It may surprise you: You must not curse the deaf. What a strange thing to say! Why would God say this? Why does this matter? They're deaf, they can't hear you!
The meaning of this verse, while a little hidden, is clear. Wronging someone, even if they don't know they've been wronged, is important to God! It is an offense to God, and it's also an offense to you! When you do something like this, (and let's be honest, we all have) you are teaching yourself to have an attitude of cruelty toward others. The person you've wronged may not know it, but the next poor guy will! God wants us to develop a habit of integrity!
Blessings on you and your family,
Erik P. Johnson
May 25
Men, I've asked my good friend, Erik Johnson to collaborate on these weekly devotions. We wanted to start
the week with some very practical tips on Working From Home that will help you love and lead your family well.
Bless you, Buz

If you've heard me give a talk at the church very often, mostly the High School and Mars Hill ministries, you know I like to give a practical message, including something you can use right away in your life. This is a very practical devotion!
Work/life balance is a challenge for almost every man. Nowadays, it's all the more challenging for many of us! Many of us are working at home for the first time. Even if you have worked at home before, it's probably been with the kids off at school, and maybe with your wife off to her own job. But now, everyone is home all the time! I've been working at home for about a year, but now my wife is at home too. Frankly, it's been an adjustment! Before the quarantine, it was easy to separate work life and home life. Since then, it seems it all merges together! I get involved in home projects during the day, and then have to spend some time working during the evening. It seems like I'm not doing anything well! I'm not getting enough work done, and I don't have undivided time for my wife either. ¡No bueno! You may even find that your family needs your more than ever during this stressful time.
Generally speaking, men and women have different brains. They both have a super-power. Women can do multiple things at once, multitasking. Men can focus intently on one thing, helping them achieve the desired result. I have the classic male brain. I can really only do one thing at time well. So I can't really deal with interruptions very well. Here's my suggestion: Make a deal with each family member. Lay out a schedule for when you need to work, and also when you are available to them. The key to this is, you have to honor your end of the bargain! If you don't, the whole thing breaks down.
Now that we're both at home, I've asked my wife to give me undivided work time until 4, with lunch together. Then, after 4, I'm all hers. If you have a lot of family members, your equation may be much more complicated than mine! Do your best to develop a schedule, then stick to it! If you're not as Type-A as me, you can still have a schedule, just factor some wiggle room into it, maybe by taking frequent breaks during the day.
This really is a "spiritual" devotional, however! Quarantine time is making us re-think a lot of things, including how we run our daily lives! And how you treat your family speaks louder than any words about how you view yourself, your job, your family, even how you view God and His impact on your life! By honoring your word, you teach your family that you honor them, and you reflect God's character as one who cares deeply for us and keeps His promises to us! Even during this difficult time, we can be teaching our family about God even in little ways.
Blessings on you and your family,
Erik P. Johnson
May 20
20 Days of Promise: Why should I say "I Can't" when my Father says, "I can do all things through Christ who strengthens me." (Philippians 4:13). Today is a new day filled with hope and joy, goodness and faithfulness. It is one filled with good works the Father has prepared for us "before the foundation of the world." And if that weren't enough to encourage you in the pilgrimage today, remember, we are "his masterpiece. He has created us anew in Christ Jesus, so we can do the good things he planned for us long ago." (Ephesians 2:10 NLT). Jesus said the Father is always working and so is He. Men, get to work! Bless you, Buz
May 18
One spiritual discipline to use in these maddening times is to find and reflect upon beauty. Beauty is all around us. Each day begins with a sunrise that reminds us God has given us another day to seek Him and that He is risen. Every sunset God paints the skies, sometimes He uses subtle pastels and at other times, the brilliant hues of color stop you in your tracks. Throughout the day, if we will listen, birds sing their praises to Him who created them, and gives them shelter along with their daily bread. My favorite worship time is when the doves sing outside my window.
Greene's simple song of worship brings us, once again back to the source of beauty, our sovereign KING of Kings and LORD of Lords. "Oh LORD, You are beautiful! Your face is all I see. And when Your eyes are on this child, Your grace abounds to me." Today, "just as you received Christ Jesus the LORD, so walk in Him," by grace through faith. Keep your eyes on Jesus, the author and perfecter of your faith. Rejoice! The whole earth is full of His glory. And as you, with unveiled faces, look upon the face of Jesus, you are being transformed from one degree of glory into another! HE IS RISEN! Worship Him!
Love you all, Buz

May15
Brothers, it's amazing how much I have taken for granted: the freedom to just say, "let's grab a cup of coffee at the Story Caffe and catch up!" I love your hearts to serve and make a difference in this time. I thank God for each of you. May you "be filled to all the measure of the fullness of God." "May Christ be exalted in your body." "Therefore let us offer through Jesus A continual sacrifice of praise to God, proclaiming our allegiance to His Name. And don't forget to do good and to share with those in need. These are the sacrifices that please God." (Heb 13:15 ff).
I'm joining our wonderful Savior and the Holy Spirit to pray continually today with thanksgiving before the throne of our compassionate and merciful Father, the GOD of ALL grace for all of you. "Be on guard, stand firm in the faith, be courageous, act like men, and let everything be done in love." (1 Cor 16:13). Thanks for reaching out to one another to ask, Is everyone ok? Does anyone need anything? That's how the Kingdom of God works, each of us looking out for one another.
If you can volunteer to serve someone else by running an errand, shopping for groceries, pick up Rx, there is a volunteer form on our website. Never give up. Never quit. Stay in the fight! As the LORD said to me 3 years ago in Colorado when I was ready to quit, "Fight for the hearts of men as if you have nothing to lose." I now charge you! Pray and fight on your knees, brothers. Take courage, the LORD is near. The Day of our salvation is near! He is at the door. Maranatha! Come LORD Jesus!
Men, we meet for prayer everyday at 12 noon via Zoom. Click on this link to join us https://zoom.us/j/450360189
May 13
Brothers, the catch phrase I am hearing more and more is "we are all in this together." In 1 Corinthians 10:1-5, Paul says "our ancestors were all under the cloud and they all passed through the sea. They were all baptized into Moses in the cloud and in the sea." Of course Paul, being a Jew refers to his ancestors, the Israelites. But every Israelite, no matter their level of faith, were all baptized into Moses, a type of Christ, in the cloud and in the sea, a picture of burial and resurrection. In other words, they were all in the experience together. But he encourages the church not to grumble or complain as troubles come, like his ancestors had done. But continue on in the journey of faith "looking to Jesus," "running with endurance," "serving one another out of reverence for Christ." Remember, "the culmination of the ages has come upon us." The temptation to turn inward to self and away from Jesus and faith in Him can seem overwhelming. But then the promise….."no temptation has overtaken you except what is common to mankind. And God is faithful." When we feel faithless, he remains faithful. The fruit of the Spirit is "faithfulness." So "keep in step with the Spirit." When the temptation comes to lose faith and trust in self, remember "God is faithful…He will also provide a way out so that you can endure it." We are all in this together. So strengthen and encourage one another. Love you, Men of the Kingdom, living free and loving well. Bless you, Buz
May 11
Brothers, first, "Holy, holy, holy is the LORD Almighty; the whole earth is full of His glory!" (Is. 6:3). On this fifth week in Stay At Home practices w, it still feels strange to be at home rather than preparing my heart to greet each of you with a blessing on Sunday. But here Here we are. In Exodus 17, the people are moving, guided by the Pillar & the Cloud to Mt. Sinai for a further revelation of God. They are thirsty, really thirsty. All around them is dryness. But they've come to the right place…the Mountain of God. They grumble and cry out "Is the LORD among us or not?" Great question. God commands Moses to strike the Rock and water flows. Life-giving water flows from the Rock. Paul, (1 Cor. 10:4), declares "the Rock traveled with them, and the Rock was Christ." Is the LORD among us or not? Yes… He is. Is there life-giving water for us today? Yes…there is. "Out of your inner-most being will gush rivers of living water."
Some of you may be feeling dry, frustrated, angry, and wondering if anything will ever be normal again. One thing is for sure, life will not be as it was. But for us who know the Author of Life, it will only get better and better. The best is yet to come. But in this interim, we are here for you. If you need to talk, let me know. It you are struggling financially, there are resources listed on the web site. If you are looking for an online group, there are many. Get connected. Don't stay isolated. The real life with Jesus is lived out with a group of men.
Bless you,
Buz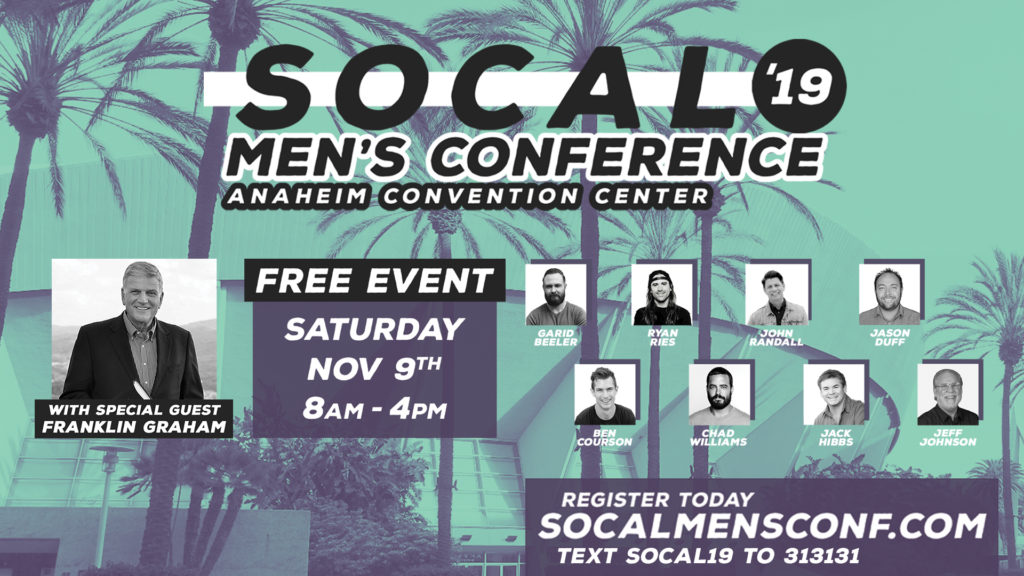 Brothers,
Here it is! please following this link to the session archives https://www.socal-20.com/archives Watch them, share them, download them, re-watch them. Remember the mighty work our Lord did on Saturday as you pursue your endeavors over the next 12 months. He is able!, He is faithful!, and He's commanded us to …"Be Strong and of good courage; do not be afraid, nor be dismayed, for the Lord your God is with you wherever you go!" (Joshua 1:9)
God Bless Every Single One of You! Enjoy! continue to share on your social channels and use the hashtag #socal19.
In Christ,
SoCal Men's Conference Ministry