Welcome to Mars Hill
Mars Hill Discovery Center at North Coast Calvary Chapel is designed to equip, encourage, and enrich Christians in their faith.  We offer seminars with guest speakers ("Evenings on Mars Hill"), Group Discussions, Lectures and more that will help you grow as a Christian and build your confidence as you seek to "live out Christ in culture."
Purpose
Our purpose is to provide a learning center for teaching, training, and education in classical Christianity and classical Christian values as a part of North Coast Calvary Chapels priorities to equip the saints for service. Mars Hill Discovery Center students will be schooled in a Christian worldview that defends the historic and classical doctrines of the faith while applying biblical insights and critique to the world culture at large.  Each of the opportunities that we offer, from classrooms to special events, are designed to help you learn what we believe and why we believe, to better understand the times we live in, and to become equipped to give an answer for the hope that lies within us with graciousness and respect.  (see 1Peter 3:15)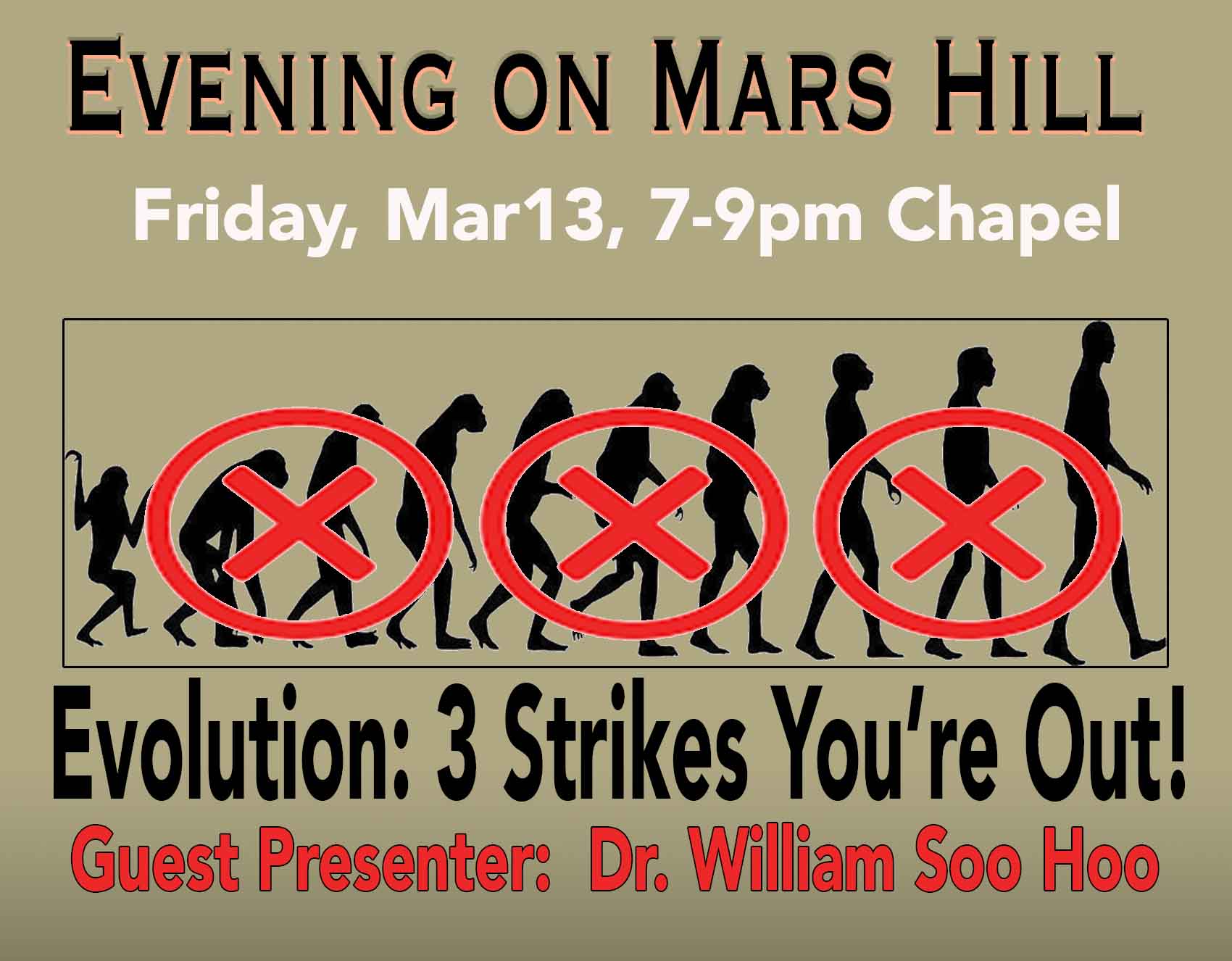 Evening On Mars Hill Friday, Mar 13, 7-9pm – Chapel
 Evolution: 3 Strikes Your Out! – Guest Speaker: Dr. William Soo Hoo
Although mechanisms of evolution are hotly debated among scientists, it is still accepted, and taught as incontrovertible fact to the public, as the process by which all of life's complexity and diversity arose. To equip ourselves for more productive conversations, we will explore three areas where evolution comes up short…and after three strikes…. you're usually OUT. Join us for this informative lecture plus Q & A.
Previous Evening on Mars Hill Archives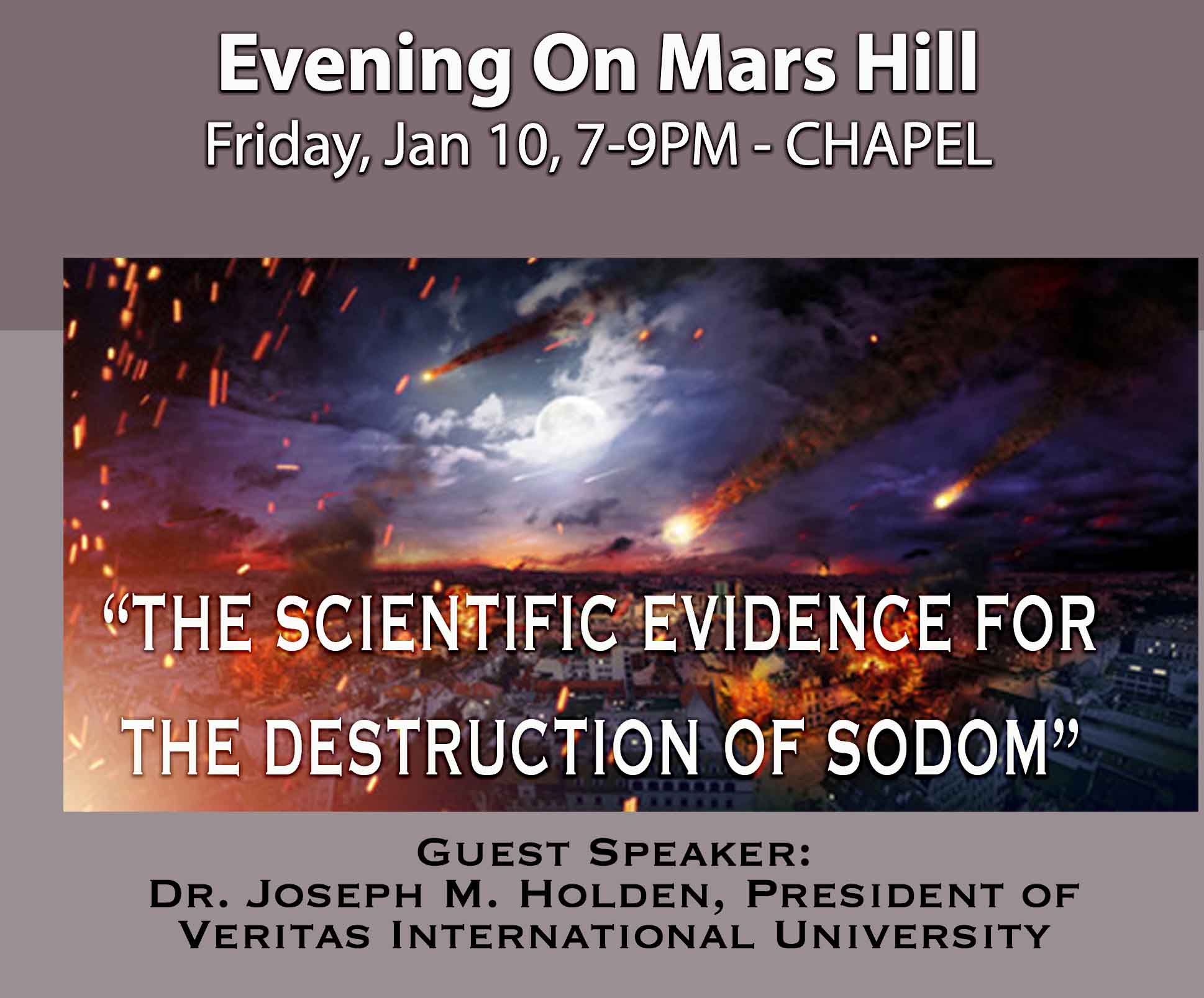 Evening On Mars Hill Friday, Jan 10
Guest Speaker: Dr. Joseph M. Holden, President of Veritas International University
Archive video coming.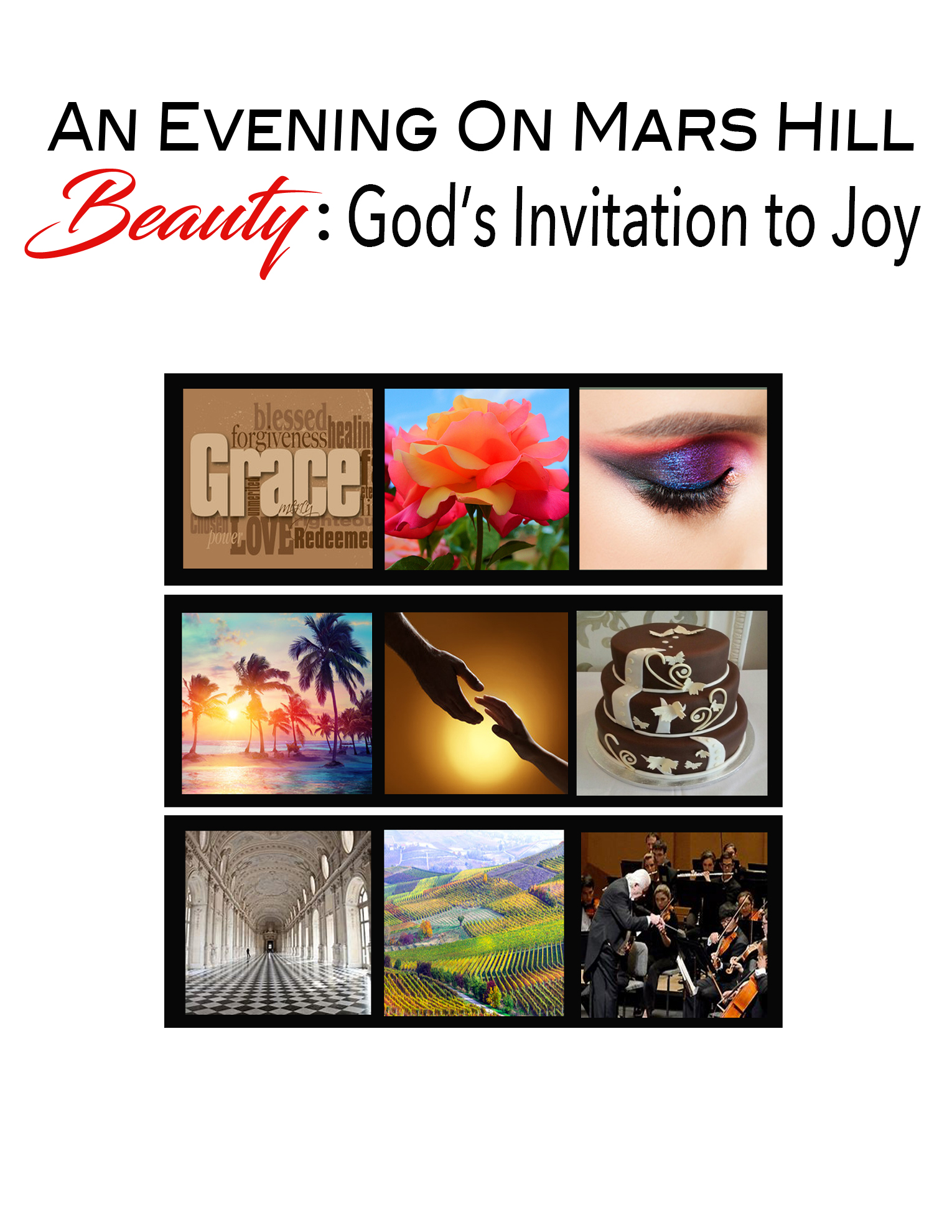 Evening On Mars Hill Friday, Oct 4 7-9pm
"Beauty – God's Invitation to Joy" Speaker: Joel Pelsue
_______________________________________________________________________________________________
Sign up to receive Mars Hill update emails
Opportunities to Serve
Hospitality / Hosting / Fundraisers
For more information or if you have any questions about Mars Hill please contact:
Barbra Laughlin
 – barbra.laughlin@northcoastcalvary.org