Outdoor Adventure
ENJOYING GOD IN HIS CREATION WITH FRIENDS AS WE BACKPACK, CAMP, HIKE, WALK, AND MORE.
Enjoying God in His Creation with friends as we Backpack, Camp, Hike, Walk, and More.
Walking is good for our soul. God can slow us down and make us more open to hear and see Him. We look forward to being on-trail with you. 
Walks are at 9am unless otherwise noted.
2020 Walk Schedule Pending
Tent camping is a great time to relax, explore, and enjoy friendships old and new in God's creation.
2020 Camping Trips
Feb 14 – 17, 2020 – Presidents Day Weekend at Death Valley (sites reserved – sign up for our e-news to know when the registration opens (Orientation: Feb 9)
May 22 – 25, 2020: Memorial Day Weekend at Idyllwild (21 sites reserved) (Orientation: May 17) (with hikes to Suicide Rock, and Ernie Maxwell Trail)
June 26 – 28, 2020 Lake Morena (9 sites reserved) (Orientation: June 14)
Sept 4 – 7, 2020:  Labor Day Weekend at Big Bear (pending)
Oct 8-12, 2020 – Sedona, Arizona (pending)
Big bear - pine knot camping trip - 2020 Pending
Labor Day Weekend at Big Bear – Pineknot Campground
An All-Church Favorite!
A great trip for everyone!  Families, single parent families, singles, couples, and YOU!
You'll enjoy a Saturday potluck, a worship & communion service, morning devotions, group campfires, fellowship, lots of fun adventures, and of course plenty of hiking, walking, and relaxing with friends!
Adults: $    each , Children age 3 & up: $     each  Registration coming   
Flyer pending
Adventure Ideas
There are lots of fun activities at Big Bear.  Go online and order a Visitor Guide at:  http://www.bigbear.com/visitor-guide/
Alpine Slide & Waterslide, biking, mountain biking, bowling, fishing, golf, miniature golf, tennis, go-carts, horseback riding, stables, petting zoo, animal park, tours, Flying Bear zip-lines, workshops, hobbies, Paddlewheel Tour Boat, Shopping, Walks / Hikes / Trails, Board Games or Books (bring!), Off-Road, Sky Chair, Picnic, Beach, Boating: Canoe, Kayak, Paddle Boats, Pontoon, Sail, Speed, Water-ski, Parasail (let us know if you are bringing watercraft), Discovery Center: tours, exhibits, learning activities, shopping, Big Bear Historical Museum, Solar Observatory
2021 Camping Trips
Feb 2021: Presidents Day Weekend 
May 2021: Memorial Day Weekend 
June 2021: Lake Morena 
Sept 2021: Labor Day Weekend 
Oct 2021: Grand Canyon (pending)
Helpful Camping Tips
December 14, 2019 San Marcos Ridgeline HIke (our webpage is not working properly - brief details - 9am 102 San Elijo Road, San Marcos, CA 92078 or email golfingbadger@gmail.com sorry for the inconvenience)
2020 Backpacking TRIPS and DAY HIkes
 January 4 – Elfin Forest Hike (7 miles)  Training #1 for the PCT hike 7am
February 1 – Discovery Hills Hike, San Marcos (10 miles) Training #2 for the PCT hike 7am
March 7 – Daley Ranch Hike, Escondido (15 miles) Training #3 for the PCT hike 7am
March 13-15 – Indian Canyon Backpacking Trip, Santa Rosa Mountains – Craig (Orientation Mtg: March 8)
April 4 – Pacific Crest Trail Hike (20 miles) 6:30a – optional – reserve your own campsite at Lake Morena on April 3 
June 13-15, 2020 – San Bernardino Mountains backpacking – Craig (Orientation Mtg: June 7)
July 29-August 1, 2020 – Lake Sabrina backpacking – Mike  (Orientation Mtg: July 19)
Sign up below on our e-news list to get updates.
Golfing Group for men and women through NCCC's Small Groups. Email Richard Kim for details
Medical Forms
Print out the Medical Form for 2019 events, complete, and bring to the event.
Get E-News!
For the latest in what's happening in Outdoor Adventure
Hiking Ten Essentials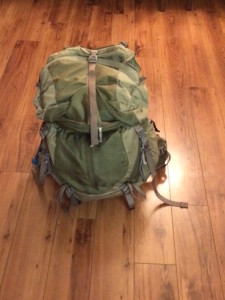 Gear and Essentials Info from REI
Day Packs
Hiking Boots
Trekking Poles
Headlamps
The 10 Essentials
Trail Talk Files
Past Topics:
Stoves used for Cooking Meals in the Back Country
Backcountry Navigation Dan Scott
Backcountry Navigation  Craig Dunn
Rescue and Recovery  Dan Scott   SOAP          Wilderness First Aid Guide
Maneuvering in Rocks and Boulders – Dave Cram
Wilderness and Remote First Aid, May 3, 17, June 7, 2018  Dan Scott
Trail Talks Layering Basics. – Dan Scott
Future Topics – we are discontinuing Trail Talks for now and may revisit it later in 2019:
Navigation: Backcountry Navigation with a map & compass, GPS Navigation
Climbing/Mountaineering: Outdoor Rock Climbing Skills: Rope Management, Climbing Anchors,  Bouldering & Free Climbing
Wilderness First Aid:  Your First Aid Kit (07/20/17), Shock and Heart Attack, Chest Injuries, Head (Brain), Neck and Spinal Injuries, Wounds and Wound Infections, Bone and Joint Injuries, Burns, Abdominal Illnesses, Hypothermia, Heat-Related Illnesses, Lightning, Altitude Illnesses, Submersion Incidents, Allergies and Anaphylaxis, Avoiding Heat Exhaustion and Heat Stroke,
What to do in the Wilderness: With Lightening, Forest Fires, Earthquakes, Snakes and Snakebite, Physical and Spiritual Ten Essentials, Signal Whistle Codes. Setting up Camps in the Wilderness. Bio Breaks in the Wilderness, Trail Etiquette & Leave No Trace, Identifying Plants, Technical Equipment, Apps, Equipment List and Gear, River Crossings (07/06/17), Hiking in Snow and Ice (07/06/17)
Experiencing God in the Wilderness:  Devotionals, Meditation/Reflection
Technology in the Outdoors:  Solar Panels, Chargers, GPS

General CPR & 1st aid refresher

Orienteering with map and Compass

Layering – clothing systems for all conditions

Backcountry sleeping systems (tent, hammock, ground tarp, bivy sack, fly style tarp, etc.)

Weather protection systems (rain jacket, fleece, windproof DWR jackets, etc)