Outdoor Adventure
ENJOYING GOD IN HIS CREATION WITH FRIENDS AS WE BACKPACK, CAMP, HIKE, WALK, AND MORE.
Enjoying God in His Creation with friends as we Backpack, Camp, Hike, Walk, and More.
Walking is good for our soul. God can slow us down and make us more open to hear and see Him. We look forward to being on-trail with you. 
Walks are at 9am unless otherwise noted.
July 13: San Dieguito Park Walk
WALK IS AT 9:00AM
All levels of walkers are welcome. This is a nice walk with small hills, beautiful scenery and views.
DIRECTIONS: I-5 to Lomas Santa Fe Drive. Go east for 1½ miles, turn left on Highland Drive and go down the hill to El Camino Real, then go right to the park which is on your right.
PARKING:  lot doesn't open until 9:30a so we'll park on the street
RESTROOMS: Near parking area.
CHILDREN/STROLLERS: at your discretion.
WALK LEADER:  Peter Booth
August 10: Fletcher Cove Walk
WALK IS AT 9:00AM 
Directions: From Interstate 5 in Solana Beach (north of Del Mar), go west on Lomas Santa Fe Drive to the Pacific Ocean. There is a small free parking lot at the beach park, a larger free parking lot the the left across from the post office, or free street parking.
Parking: Fills up early, so carpool or come a little bit earlier to find a good spot and meet us at 9am.
Dogs: Part of the walk may be on the beach and part on the street.  No dogs are allowed on the beach. 
Walk Leader:  Peter Booth
September 14: Oceanside Harbor Walk and Harbor Days
WALK IS AT 9:00AM
Come and join us for a casual Saturday 9:00 a.m. walk to enjoy time with friends in God's creation. This walk is open to everyone so invite friends and family!
Starting from the parking lot next to the Jolly Roger, we will follow the sidewalk along the harbor, passing shops and restaurants, continuing on to Pacific Street to the Strand which runs along the beach.  We will walk along the beach to the pier, then go up the ramp and walk to the end of the pier and back, then continue walking south to Wisconsin Street at which point we turn around and return along the same route The entire walk is a 10K walk/6 miles.  Walkers may turn around at the pier if a shorter walk is preferable.
Walk Description:  Very moderate along sidewalks with the only incline up the ramp to the pier and down.
Parking:  The address for Jolly Roger is 1900 Harbor Drive.  We will park in the public parking lot just before you get to the Jolly Roger.
Directions:  From Carlsbad, take I-5 north, merge onto Harbor Drive via exit 54C towards Oceanside. Turn left onto Harbor Drive and proceed around the harbor until you see the Jolly Roger Restaurant and turn into the parking lot just before you get to the restaurant.
Restrooms: In the Harbor shopping/restaurant area and along the beach in two locations.
Accessible: Wheelchairs, Children and Strollers
Food: Restaurants are plentiful in the Harbor shopping area.
Walk Leader:  Peter Booth
October 12: Encinitas Ranch Trail Walk
WALK IS AT 9:00AM 
Quail Hollow Drive, Encinitas
Let's enjoy a beautiful fall day together. This will be a casual walk on the old Ecke Ranch property. We'll travel through Indian Canyon, the golf course to the ridge line (great views!). We plan to go about 5 miles and take about 2 or 3 hours.
DIRECTIONS From I-5 & Leucadia Blvd: Go East to Quail Gardens Drive then North (left) (as it curves west it becomes Quail Hollow Drive). Shortly before you get to Saxony there is a yellow gate just past a brown gazebo on the left side.  Park on the street.
From I-5 & La Costa Ave:  Go East then go South on Saxony and turn left on Quail Hollow Drive. There is a yellow gate just past a brown gazebo on the right hand side.  Park on the street.
RESTROOMS:  No
ACCOMMODATIONS FOR DISABLED:  There is one part that would not be good for wheelchairs.
CHILDREN AND STROLLERS: One part where stroller would need to be carried over.
DOGS:  Allowed on leash but there are thorns on part of the trail.
WALK LEADERS:  Peter Booth
AFTERWARD:  It's very close to San Diego Botanic Gardens (formerly Quail Gardens) if anyone wants to visit there after.
November 9: San Elijo Lagoon Walk
WALK IS AT 9:00AM 
One of the few remaining coastal wetlands in San Diego County and is home to many plants and animals and is especially know for it's rare and migratory birds (bring your binoculars!). We will be doing a 2 mile walk (4 round-trip).
From Encinitas Blvd: To get to the trail head through Encinitas: * From Carlsbad take I-5 South * Exit Encinitas Blvd go East (left) the road will turn into S. Rancho Santa Fe Rd after you cross Manchester Ave * Turn South East (right) on La Bojada * Turn South (right) on La Noria which will turn into El Camino Real for about two miles. * Parking area is on the right. * If you get to Highland or the San Dieguito Park you've gone too far.
From Lomas Santa Fe Dr: To get to the trail head through Solana Beach.  * From Carlsbad take I-5 South * Exit Lomas Santa Dr. go East (left) * Go North (left) on Highland Dr. * Go North (left) on El Camino Real about 1/4 a mile * Sign and parking on your left.
RESTROOMS:  No
ACCOMMODATIONS FOR DISABLED:  Not appropriate for wheelchairs.
CHILDREN AND STROLLERS: Yes, some can be done pushing a stroller.
DOGS:  OK on 6′ leash.
WALK LEADER:  Peter Booth
Tent camping is a great time to relax, explore, and enjoy friendships old and new in God's creation.
Lake MOrena Camping Trip, JUne 28 - JUly 1
 Friday, June 28. 2pm check-in – Monday, July 1, 12pm check-out
A new camping adventure!
 "Lake Morena is a magnet for anglers, yet the 3250 acres of this East San Diego County park offer something for every outdoor enthusiast, from hikers to picnickers to just plain campers."
Some nearby adventures:
Fishing (depending on season: rainbow trout, largemouth bass, bluegill, crappie, catfish)

Boating (rentals, personal watercraft, fishing float tubes, canoes, and kayaks). NO swimming or direct water-body contact permitted.

Pacific Southwest Railway Museum website
Lions, Tigers, and Bears website
Sky Falconry website

Off-roading (OHV) at Corral Canyon

Maybe a Barn Dance!
ADDRESS: 2330 Lake Morena Drive, Campo, CA 91905
FROM CARLSBAD: I-5 South to I-805 South, Exit CA-52 East (exit 23), go almost 14 miles to CA-67 South (Exit 18B), after 2.23 miles merge onto I-8 East, then 33 miles to Buckman Springs Rd exit (Exit 51), the right onto Buckman Springs Rd, then 5.33 miles, urn slight right onto Oak Drive then 2 miles, turn slight right onto Lake Morena Drive (just past Cedar Drive).
BRING: See the car camping checklist on our website and also bring your all your own drinking water 
PETS: No dogs unless they are service dogs. Contact Orville for other special considerations.
SHOWERS: Coin operated showers
REGISTER: HERE
ORIENTATION MEETING: Sunday, June 23, 1pm, C-205A (upstairs in the Chapel building)
Lake Morena website
Big bear - pine knot camping trip - Aug 30 - sept 2
Labor Day Weekend at Big Bear – Pineknot
An All-Church Favorite!
A great trip for everyone!  Families, single parent families, singles, couples, and YOU!
You'll enjoy a Saturday potluck, a worship & communion service, morning devotions, group campfires, fellowship, lots of fun adventures, music, and of course plenty of hiking, walking, and relaxing with friends!
This trip always has a waiting list. Be sure to sign up early.
Adults: $40 each , Children age 3 & up: $15 each  Register HERE  This trip will not be at a group site but shared individual sites.
Adventure Ideas
There are lots of fun activities at Big Bear.  Go online and order a Vacation Guide at:  http://www.bigbear.com/visitor-guide/
Alpine Slide & Waterslide, biking, mountain biking, bowling, fishing, golf, miniature golf, tennis, go-carts, horseback riding, stables, petting zoo, animal park, tours, Flying Bear zip-lines, workshops, hobbies, Paddlewheel Tour Boat, Shopping, Walks / Hikes / Trails, Board Games or Books (bring!), Off-Road, Sky Chair, Picnic, Beach, Boating: Canoe, Kayak, Paddle Boats, Pontoon, Sail, Speed, Water-ski, Parasail (let us know if you are bringing watercraft), Discovery Center: tours, exhibits, learning activities, shopping, Big Bear Historical Museum, Solar Observatory
2020 Camping Trips
Feb 14 – 17, 2020 – Presidents Day Weekend at Death Valley
May 22 – 25, 2020: Memorial Day Weekend at Idyllwild
Sept 4 – 7, 2020:  Labor Day Weekend at TBD
Oct 2020 – Sedona, Arizona
Helpful Camping Tips
Sabrina Lake Backpacking Trip - July 7 - 10, 2019
God's creation: mountains, streams flowing high, lakes, and friends!
We have 4 spots available (as of June 6)  for a backpacking trip entering the Sabrina Lake Trail on July 7 and exiting on July 10. This year's trip is intended for beginning backpackers, but experienced backpackers would enjoy the scenery as well.
Here is a link for information about Sabrina Basin.
Our agenda calls for driving the 6 hours to Bishop on Saturday, July 6. At Bishop, we'll make a left on Route 168/Lake Sabrina Rd., to the Sabrina Campground or another of the nearby campgrounds if that one is full. We'll spend the night there, at around 9,000′ elevation, which will help us acclimate for the upcoming days at slightly higher elevations.
On Sunday morning, July 7, we'll set out on the Lake Sabrina Trail. The trail borders the eastern edge of beautiful Lake Sabrina and then cuts uphill to the south, gaining about 1200′ in elevation in 3 miles, where we'll find Blue Lake. From there, the trail winds west and then southwest for a total of another 3 miles from Blue Lake to our destination, Midnight Lake. Finding a campsite for the group will add more steps to the day, but we should arrive by early afternoon to enjoy the area.
On Monday, July 8, the plan is to keep our campsite at Midnight Lake. Optional activities on Monday will be fishing for those with licenses, and a 3-mile round trip day hike to Hungry Packer Lake with a possible side trip to nearby Moonlight Lake.
On Tuesday, July 9, we'll enjoy a leisurely 3 mile hike back to Blue Lake, where we'll spend our last night on the trail.
On Wednesday, July 10, we'll hike the 3 miles downhill to the Lake Sabrina Trailhead, and those interested can enjoy a meal in Bishop together, and then we'll drive home.
To enjoy this outing, you'll need to be ready to do the tougher 6 mile hike on the first day with a full pack. If this sounds like something you can be ready for, register below.
Note that in addition to the training you do on your own, you'll need to complete at least one training hike with me (see below for schedule). The training hikes will require you to carry your pack with weight approaching what you'll have on trail.
Mandatory Orientation Meeting
Sunday, June 23, 1:00 p.m. at North Coast Calvary Chapel in Room C-105. Trip specifics, equipment, ride sharing, car positioning to be discussed.
Schedule for supervised Training Hikes (1 required):
Saturday, June 8, 8 a.m. – Daley Ranch, 3024 La Honda Dr, Escondido, 92027. 7 mi.
Saturday, June 15, 8 a.m. – Elfin Forest Preserve. Meet in the parking lot at 8833 Harmony Grove Road, Escondido, 92029. 5.5 mi.
Saturday, June 29, 8 a.m. – Discovery Hills, 650 Foxhall Dr, San Marcos, CA 92078. 6 mi.
Saturday, June 22, 8 a.m. – La Costa Habitat Conservation Area. Meet at 24 Hour Fitness north parking lot, La Costa Town Square, 3409 Via Montebello, Carlsbad, 92009. 8 mi.
I'll reach out to those registered ahead of each training hike so we can coordinate.
Register HERE   Cost is$15/person (nonrefundable). 
Limited to 8 backpackers, then a wait list so sign up soon. If you are signed up and need to cancel, please let us know right away so we can fill the spot.
TRIP LEADER: Mike Berrier
BACKPACKING GEAR: Standard backpacking gear required. REI provides a checklist that can be viewed Here though appropriate gear will be discussed at the orientation meeting. For those who need gear (such as packs, pads, tents, etc.) some may be available for loaning and can be discussed at the orientation meeting. Things like stoves, water filters, etc., can be shared (i.e., not every person needs to have these items).
Backpacking Training and Resources
BACKPACKING TRAINING
To train for one of our backpacking trips try some local hikes first with some 20 – 25 lbs in a pack and try going 2 – 3 miles and gradually working up to about 6 miles. 
If you live in Oceanside/Vista area, Discover Hills is a nice training area. 
If in San Marcos/Carlsbad, Elfin Forest is another fine training hike as well as Mt. Woodson or Iron Mountain.
WHAT TO BRING
CALIFORNIA ANNUAL & SPECIAL DESTINATION PASSES
California State Park Passes  (not sure if you need these for any OA trips)
Medical Forms
Print out the Medical Form for 2019 events, complete, and bring to the event.
Get E-News!
For the lastest in what's happening in Outdoor Adventure
Hiking Ten Essentials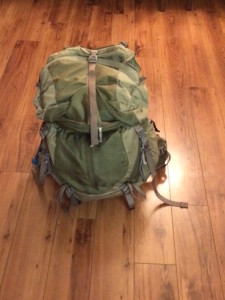 Gear and Essentials Info from REI
Day Packs
Hiking Boots
Trekking Poles
Headlamps
The 10 Essentials
Trail Talk Files
Past Topics:
Stoves used for Cooking Meals in the Back Country
Backcountry Navigation Dan Scott
Backcountry Navigation  Craig Dunn
Rescue and Recovery  Dan Scott   SOAP          Wilderness First Aid Guide
Maneuvering in Rocks and Boulders – Dave Cram
Wilderness and Remote First Aid, May 3, 17, June 7, 2018  Dan Scott
Trail Talks Layering Basics. – Dan Scott
Future Topics – we are discontinuing Trail Talks for now and may revisit it later in 2019:
Navigation: Backcountry Navigation with a map & compass, GPS Navigation
Climbing/Mountaineering: Outdoor Rock Climbing Skills: Rope Management, Climbing Anchors,  Bouldering & Free Climbing
Wilderness First Aid:  Your First Aid Kit (07/20/17), Shock and Heart Attack, Chest Injuries, Head (Brain), Neck and Spinal Injuries, Wounds and Wound Infections, Bone and Joint Injuries, Burns, Abdominal Illnesses, Hypothermia, Heat-Related Illnesses, Lightning, Altitude Illnesses, Submersion Incidents, Allergies and Anaphylaxis, Avoiding Heat Exhaustion and Heat Stroke,
What to do in the Wilderness: With Lightening, Forest Fires, Earthquakes, Snakes and Snakebite, Physical and Spiritual Ten Essentials, Signal Whistle Codes. Setting up Camps in the Wilderness. Bio Breaks in the Wilderness, Trail Etiquette & Leave No Trace, Identifying Plants, Technical Equipment, Apps, Equipment List and Gear, River Crossings (07/06/17), Hiking in Snow and Ice (07/06/17)
Experiencing God in the Wilderness:  Devotionals, Meditation/Reflection
Technology in the Outdoors:  Solar Panels, Chargers, GPS

General CPR & 1st aid refresher

Orienteering with map and Compass

Layering – clothing systems for all conditions

Backcountry sleeping systems (tent, hammock, ground tarp, bivy sack, fly style tarp, etc.)

Weather protection systems (rain jacket, fleece, windproof DWR jackets, etc)