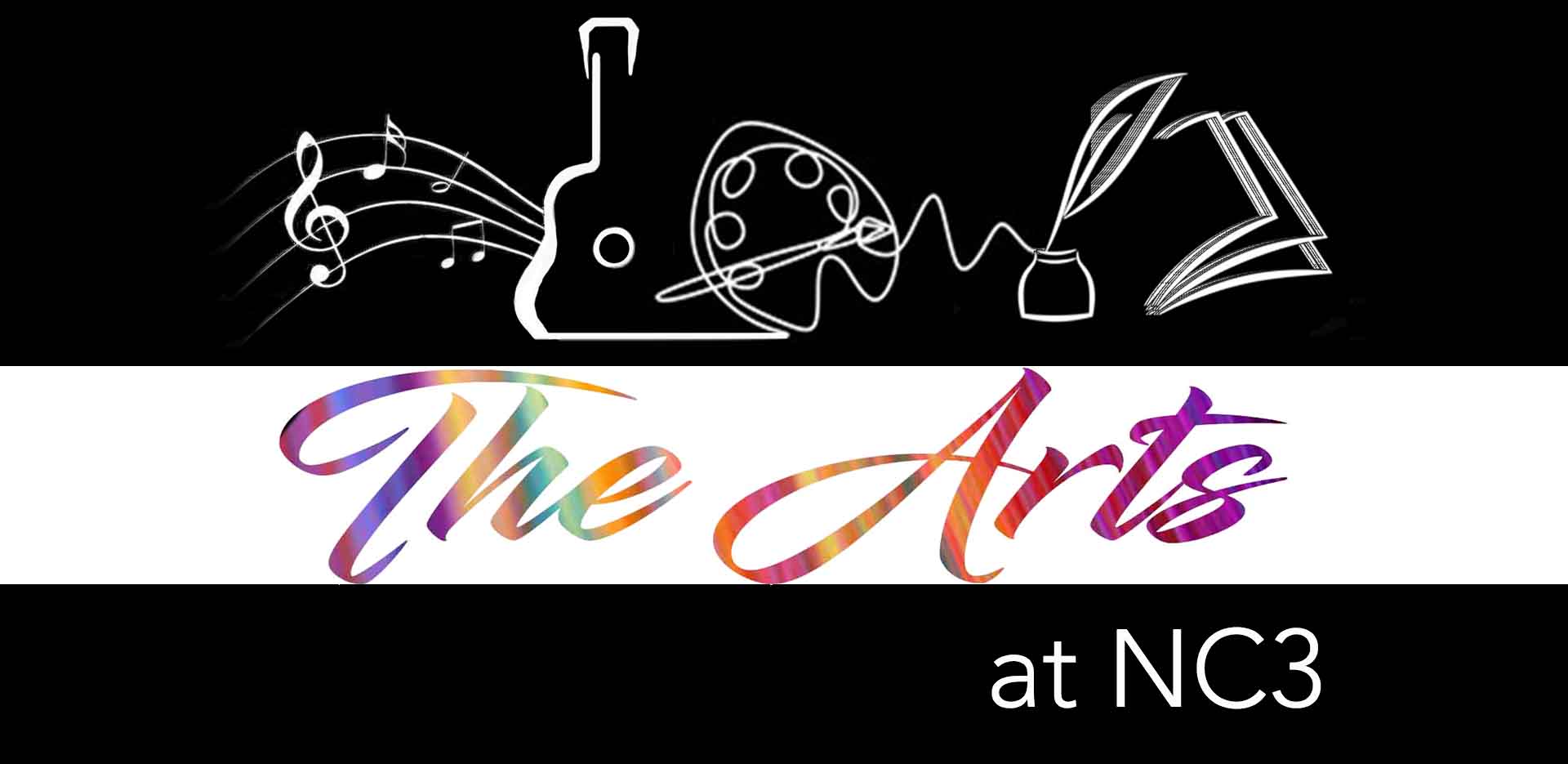 Poetry & Songwriting Critique Group
Room C-104
5 Monday Sessions: July 26 (Pilot Event), Aug 30, Sep 27, Oct 25, Nov 1
6:30 -8:30pm
All Original Poems & Songs Are Critiqued By Christian Writers Guild Standards.
Click Here to Register. 
Important Information:
Sign-ups are Required
Each participant must:

Bring 10 copies of their poem or song lyric
Present their piece personally, prerecorded, or by another artist
Present a different piece each session. 
Bonus Open Mic Night
The Story Caffe
Mon. Aug 2
6:30 -8:30pm
Open to all Art Forms and Open to the Public.
Important Information:
Required: Sign-up for your 7 minute slot to present
Each presentation will be 7 minutes.
No piano or keyboard is provided.
Personal keyboards w/ an amp or built-in speakers are permitted.
Click Here to Register.
Fall Fine Art Exhibit Submissions
…and crown thy good with…
Submissions run between Aug 8 – Sept 8
Exhibit Opens Friday Oct. 8 5:30-7:00pm
Submission Details:
Click Here for Submissions.
Beginning Guitar Classes
Room C-104
Monday Aug. 9, 16 & 23
6:30 -8:45pm
Important Information:
12 Spots available
Ages 16-116
Must have tunable, acoustic guitar
First Come – First Serve
Guarantee: play 100 songs after 1st class
Cost: $45.00 includes 3 lessons & new chord book
Sign-up online at: www.northcoastcalvary.org/the-arts
Click Here to Register.
Stir It Up! Writers Seminar
"Be a Source of Light : How to Publish Books and Articles in a World Gone Mad"
Guest Speaker: Cindi McMenamin
Room C-104
Monday Sept. 13
7:00 -9:00pm
This event is free and open to the public.
Join us for the Stir it Up! Writers Seminar as Prolific Writer and Author Cindi McMenamin shares practical ways you can:
• know to whom you're writing and how to best reach your audience.
• confidently write the message God has placed on your heart, regardless of how it is received.
• stay sharp and uncompromised in the midst of temptation to "sell out.
• and additional information on publishing
The Arts
The arts have long been a natural and expressive component of our faith. We acknowledge that all things have been crafted and created according to God's good pleasure and in our desire to draw nearer to Him, we too create. Our purpose is to utilize our gifting in order to glorify God, connect with others and communicate the Gospel. Personal development, collaborative efforts and staying connected to artists that you know throughout the community, are extremely important to us. This ministry allows fellow believers to grow, create and reach out together. Whether you are a Beginning, Re-emerging or Professional artist…we welcome you!
OUR FINE ART EXHIBITS INSPIRE ALL AGES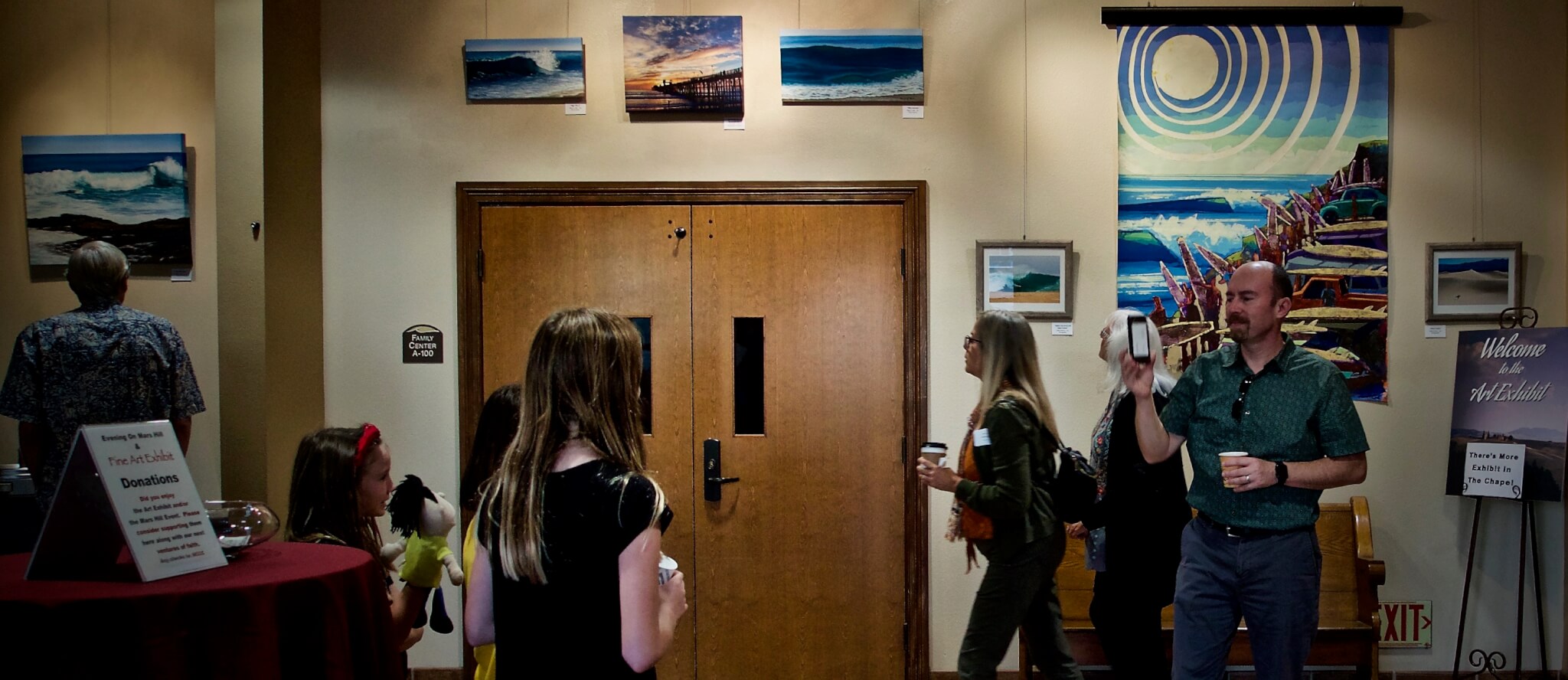 WE ENCOURAGE WRITERS, PERFORMERS & VISUAL ARTISTS by hosting
EXHIBITS, OPEN MIC NIGHTS, MUSIC EVENTS, SEMINARS & MORE.
Important Details for the Virtual Exhibit
Best Experience Alert!
This exhibit works best in either FireFox or Google Chrome search engines.
Once the exhibit is launched, in the upper right hand corner there are setting controls to:
Adjust music volume

Adjust graphics fidelity to "best"

View exhibit full screen.

Chat with other visitors who are viewing the exhibit at the same time as you by clicking the chat bubble in the lower right hand corner.
New Video Release of our 2 hour "Recollections" Worship Event
Check out the video link below to experience this unique worship event recorded live in The Old World Chapel at North Coast Calvary Chapel in Carlsbad, CA.  You can watch, send to friends or download the event. Please encourage others, through your social media connections, to enjoy this special evening. Click Here to watch video.
Opportunities to Serve
HOSPITALITY/HOSTING/FUNDRAISING EVENT SUPPORT