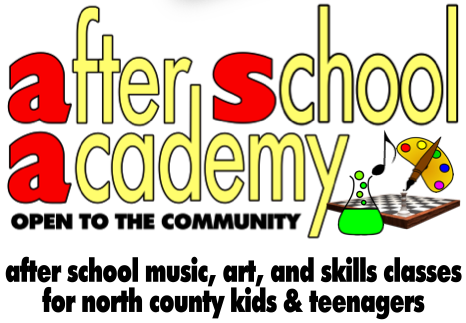 After School Academy is a set of enrichment classes in music, art, and useful skills for students in grades K-12. It is our attempt to meet a need in North County for constructive activities for kids and youth during the after school hours. Spring 2015 is our pilot session.
Classes will meet Thursdays, April 23rd through May 28th. Classes have minimum and maximum enrollments.
Register Here for all classes except Monart Drawing: After School Academy
For Monart Drawing Register Here: Monart Drawing 
Homework Zone – In order to make the program convenient for parents who may need to drop off well in advance of a class start time or pick up later, a homework/quiet activity room will be availible from 3-5pm. This room will be supervised, and we may be able to offer help with homework, however, we are not staffed to provide extended, one-on-one tutoring.  Students should bring homework as well as additional reading.  We will also have a selection of table games that can be used by students who finish their homework early.  You must book for the entire session when registering if you will need this service.  Fee: $30 if registering for one, 1-hour block (3-4 pm or 4-5 pm); $60 if registering for both blocks. Room: B-100.

3:00-4:00 pm

Beginner Guitar Ages 8-12 Instructor: Rheanna Downey.  Learn guitar anatomy, string names, how to read chord charts and play basic chords.  How to strum and read beginner song charts.  Learn to play a full song at the end of 6 week class. Requirements: An acoustic guitar, picks, tuner, and a capo. Fee: $50 Room: B-202    (min. 6, max. 12)
Juggling  3rd grade & up. Instructor: Mark Friestad. Learn to juggle! It builds your hand-eye coordination and your confidence. Our method lets you learn at your speed, and you'll be amazing your friends with what you can do in no time! We'll also introduce kendama and other juggling tools like diabolos. Everyone gets a set of professional juggling balls to keep. Fee: $50     Room: B-201   (min. 6, max. 15)
Pilates Bootcamp 6th-12th graders. Instructor: Blyth Schimdt. Creating an awareness and love for keeping your body healthy and happy from the inside out. We will create goals and find how fun it can be to reach them. Whether you play sports or just want to feel more fit, this class will help you stand taller and stronger, increasing performance at any activity. Fee: $50     Room: B-203
4:00-5:00 pm

Beginner Guitar  Ages 12-17. Instructor: Rheanna Downey.  Learn guitar anatomy, string names, how to read chord charts and play basic chords.  How to strum and read beginner song charts.  Learn to play a full song at the end of 6 week class. Requirements: An acoustic guitar, picks, tuner, and a capo. Fee: $50 Room: B-202  (min. 6, max. 20)
Watercolor & Mixed Media Grades 3-6. Instructor: Rachelle Walton. Learn the different tips, tricks, and techniques for using watercolor along with basic design principles.  This class is designed to help you think like an artist, equipping you to come up with your own ideas on what to paint and make.  The final project and materials you use will be up to you!  Explore the limitless possibilites watercolor has to offer and see your own project come to life!  Fee: $90 Room: B-203  (min. 5, max. 15)
Babysitting Ages 10-16. Instructor: Miki Montoya. Gain the skills you need to become an excellent and trustworthy babysitter.  Learn how to handle emergencies, how to protect kids' health and safety, how to engage kids in constructive activities, and how to become the kid of babysitter kids LOVE and parents call again and again. Fee: $80 Room: B-201  (min. 5, max. 10)
5:00-6:00 pm

Intermediate Guitar All ages up to 18. Instructor: Rheanna Downey. Learn Fingericking, advanced chord alternatives and technique.  Play songs implementing knowledge at the end of 6 weeks.  Requirements:  You need to be able to read and play basic chords and know basic strumming and tablature.  Bring acoustic guitar, capo, tuner, picks.  Fee: $50 Room: B-202   (min. 4; no maximum)
Monart Drawing grades K-6. Instructor: Lisa Scarcia. Monart teaches you how to draw realistically and builds your self-confidence in a non-competative environment.  In this session the rainforest will come to life as we create vibrant artwork inspired by nature's landscape-toucans, sloths, tree frogs, etc. Watercolor, colored pencils, oil pastels, markers, chalk and much more will be used.  Fee: $96 Room: B-203 ** Registration for this class (only) is thru www.monartsandiego.com  (min. 6, max. 18)

Drum Circle Ages 9-12. Instructor: Kyle Scarcia. Learn to play the djembe! (pronounced "jim-bay") We'll teach you about its origins as well as how to play different rhythms on it, like polyrhythms and syncopation.  No musical experience necessary.  All equipment is supplied.  Fee: $40. Room: B-201   (min. 5, max. 8)