COUPLES WITH YOUNG CHILDREN
Morning Date is for couples, who have young children to connect with other couples and enjoy fellowship and interaction, and relevant teaching, while taking in a delicious continental breakfast. This all takes place on the 1st Sunday of each month. However, right now we're on a summer break, except for the Morning Date at the Beach (see info below). We'll begin our regular gatherings on Sunday, September 1.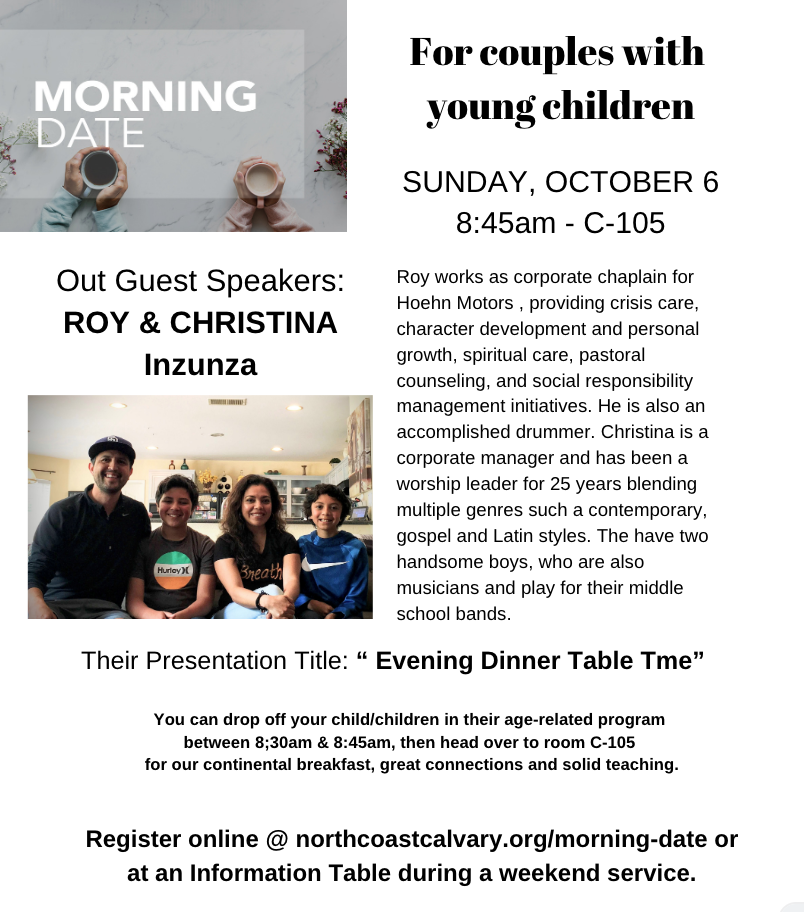 Purpose of MORNING DATE
GATHER with other couples to develop lasting friendships through fellowship and interaction. 
CONNECT with your spouse through relevant teaching and discussions.
REFRESH your marriage and parenting skills.
The game plan: Drop your child/children off in the Sunday AM Children Ministry Program between 8:30am and 8:45am, and then join us in room C-105 (Reception room, which is behind our Chapel building), beginning at 8:45am. We welcome all young couples/parents, but we have found that the average age range of the children are birth to 5-6 yrs. old. If you are a nursing mom or your child is not able to stay in his/her classroom, for whatever reason, feel free to come together into the Morning Date.
Please add us to your email and text lists