Local Refugee Care
Welcoming our Newest Neighbors
Local Refugee Care Events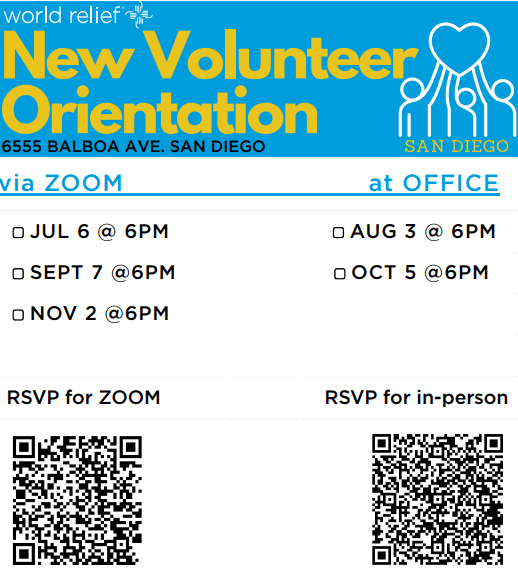 World Relief New Volunteer Orientation
The nations are arriving in San Diego and the church has an incredible opportunity to be the hands and feet of Jesus.  World Relief leads this first important step for everyone that is interested in serving.  They provide volunteers with a biblical foundation of why we serve refugees in various serving opportunities.  Many of us have never walked alongside or had a friend that was a refugee, so it is important to have a baseline understanding of their experiences and culture so we can love them well.
Jane Register, M.A., San Diego Program Director, World Relief Southern California
6555 Balboa Avenue, San Diego, CA 92111
Register for:  ZOOM Orientation: HERE     IN-PERSON Orientation: HERE
Local Refugee Care Serving Opportunities
URGENTLY NEED HOST/HOMES FOR NEW REFUGEE FAMILIES
We have been urgently trying to find housing for newly arriving refugees. We are looking for granny flats, casitas, ADUs and furnished guest rooms. If interested, click "Host a Family" HERE and we will be in touch with next steps.
GOOD NEIGHBOR TEAMS
Join a GNT by becoming friends with local refugee families and/or supporting host families for refugees. This includes potentially helping with transportation, meals, school enrollment, etc.  If interested, click "Good Neighbor Teams" HERE and we will be in touch with next steps.
FUNDS FOR GIFT CARDS FOR REFUGEES
There is a huge need for visa gift cards for refugees many will not have work authorization for 3-6 months and are looking for cash jobs that they can walk to, etc. If you'd like to give, donate HERE.
Thank you for your heart to serve and welcome newly arriving refugees in San Diego
Stay up-to-date on events and opportunities in Local Refugee Care
Refugee Care Church Collaborative Members
Refugee Care Service Provider Members
Types of Immigrants
REFUGEE – individuals who are unable or unwilling to return to their country of origin or nationality because of persecution or a well founded fear of persecution and has crossed an international border. Refugees are eligible for protection in large part based on race, religion, nationality, membership in a particular social group, or political opinion. They are outside the U.S. when they apply and are screened for resettlement.  (Includes a section specific to Afghans.)
What is a Refugee? Video
ASYLUM SEEKER – are like refugees except they submit their applications while they are physically in the U.S. or at a U.S. port of entry. They use a different process and agency for their application.
S.I.V. (Special Immigrant Visa) – Iraqi or Afghan people who were employed by Americans and resettled legally in the U.S.
P-2 Program (Priority 2 for Afghan Nationals) a new resettlement category  8/2/21
UNACCOMPANIED MINORS – an immigrant who is under 18 and not in the care of a parent or legal guardian at the time of entry.
MIGRANT – one who chooses to move in order to improve the future prospects for themselves and their family.
I.D.P. (Internally Displaced Person) someone who is forced to flee their home but remains in their home country.
REFUGEE NUMBERS AT A GLANCE: https://www.unhcr.org/en-us/figures-at-a-glance.html
Cars, License, ID, Belts, Car Seats, Bikes, Bus, Train, Trolley
Department of Motor Vehicles  For Driving License or ID Card: Requirements, Drivers Handbook Instruction Permits, Appointments and Tests (translation services), Replacement Cards Vehicle: Title (Buy/Sell) or Licensing Other: Disability Placards, Address Change  Publications
Seat Belts – positioning and age requirements
Child Carseats expiration dates and proper use – be sure that the family knows when that is, also how to properly install and use the seat: here
Bike Safety (please review this when giving bikes – include helmet and good lock with instructions on proper locking too)  There is a PDF version that you can download and print out.
NCTD:  North County Transportation for Buses, Coaster (commuter train), Sprinter (light rail), Flex and Lift
MTS  San Diego Metropolitan Transit – Bus and Trolley
Immigration: Green Card (I-485), Naturalization/Citizenship (N-400) and more
(See also the LEGAL toggle below this one for more helps)
USCIS Immigration – for green card, citizenship, case status, etc
USCIS Green Card (after 1 year)
pathwayssd.org – Solana Beach Presbyterian Church Pathways to Citizenship  See page 13 for San Diego
Legal Help
San Diego Christian Legal Aid
(SDCLA): http://www.sdclegalaid.org/
Appointment Line:  (858) 230-2321. (office on Faraday in Carlsbad).  Including Immigration, Family Law, Evictions, Labor/Employment, Small Claims, and more. (for people of any religion/belief)
Legal Aid Society of San Diego
(LASSD):  lassd.org
Lots of helps across SD County, including Immigration, Mental and Behavioral Health, SSI (Supplemental Security Income) and SSDI (Social Security Disability Insurance) Claims. Custody / Visitation / Divorce / Restraining Orders, CalWorks / CalFresh (food stamps), Federal Tax, Free Clinics, Housing: Eviction, Public Housing, Housing Discrimination, etc., Access to Health Care, and more.
North County Pathways to Citizenship
120 Stevens Ave, Solana Beach, CA 92075, 858-509-2589
USD Free Legal Help
Education and Career Resources
Computers 2 Kids:  Discount priced laptop and desktop computers
ESL Links and Resources through Laubach San Diego
Grossmont Adult School  (Online or Classroom – El Cajon)
Grossmont Adult Health Occupation Center – El Cajon
East Region Adult Education (Automotive, Art, Welding, Upholstery, and more…)
AVID Program  Excellent program for refugee kids and youth to help close the achievement gap.
Mira Costa Job Training Programs
Associated Builders and Contractors (ABC) Construction Career Training in Poway
Electrical Training Institute  Unionized Electrical and Sound Telecommunications careers
Western Electrical Contractors Electrical Apprenticeship career training in San Diego
Women's College Scholarships and Loans Site
USAHello  Free online classes to help refugees and immigrants succeed in the U.S. (GED, CITIZENSHIP in various languages)
Tutoring Helps
I would order the following programs:  Raz-Kids, Reading A-Z, Raz-Plus, ELL, READY Test A-Z, Writing A-Z  This program reads the leveled passage to the student. If while the student is reading independently and comes to an unknown word the program reads the word out loud to them. It will say the word as many times they need it to be successful.  (Recommended to us by a teacher – they have free trial but then a cost).
Job Search Resources
Employment Agencies
A good starting place for jobs is with employment agencies, They have different types of job targets depending on the agency.  They are often the door into permanent positions. The agencies are paid by placing people in jobs – so the right agency will work to do that.  Here are a few of the agencies we've seen be helpful (this isn't a complete list and not a guarantee but is a resource list).  It is helpful for the refugee mentor/advocate to go along to help with the process.
Job Search Sites
Until you find a Job
Housing Search and Rent / Utility Help Resources
NOTE:  Website links are in blue, website URL's are also listed for those who want to print this list.
Go first to northcoastcalvary.org/help for current rental and utility helps
The Good News in Many Languages
Global Recordings Network USA  HERE The Gospel in Audio recordings and more in various languages and dialects.
https://multilanguagemedia.org/   Foreign Language Christians resources.
Miscellaneous Helps: Food, Diapers, Phone, and More