Small Groups Online Leaders' Training: session 6
Please email Pastor Jim Doyle to let him know you're beginning this session…Thank you!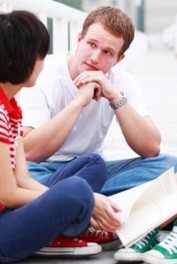 I. How Well do you listen
My dear brothers and sisters, take note of this: Everyone should be quick to listen, slow to speak and slow to become angry (James 1:19) Fools find no pleasure in understanding but delight in airing their own opinions. (Proverbs 18:2) Developing solid listening skills, with discernment, are the key components to becoming an effective facilitator. Although it appears to be a contradiction, listening is more important than speaking when it comes to facilitating a group. Most of us like to talk more than we like to listen. Listening is something we all need to work on as facilitators. Listening is a tangible act of love. It is a gift to others, to allow them to be heard. Stephen Covey says, "Most people do not listen to understand; they listen in order to answer. While the other is talking, they are preparing their reply." Yet Scripture says, "He who answers before listening— that is his folly and his shame" (Proverbs 18:13). True listening is tough work. Part of the reason that hearing others requires careful listening is because we talk much more slowly than we think. Some experts tell us that humans think five times faster than they talk. Thus, when someone is talking, the listener can race around to many other thoughts and ideas, while checking in just long enough to get the basic gist of what the person is saying. Don't you find your mind preparing what you're going to say next, rather than really listening. Part of the reason is because we don't like the uncomfortable silence of not knowing what to say next. Instead attempt to diligently listen to the very end and then flow with the uncomfortable silent periods.
Take a moment to reflect on the following questions on Proverbs 18:13:  He who answers before listening— that is his folly and his shame. Why do you think this is true? What happens when we try to hurry people who are speaking by putting words in their mouths or interrupting? What message do we send when we speak too soon or don't listen and miss the point?  What is the result? What are the heart issues revealed in us when we answer without listening?
Becoming more of an intentional listener
Really pay attention
Give the speaker your undivided attention, and acknowledge the message. a.  Recognize that non-verbal communication also "speaks" loudly. b.  Look at the speaker directly. c.  Put aside distracting thoughts. Don't mentally prepare a rebuttal! d.  Avoid being distracted by environmental factors. e.  "Listen" to the speaker's body language. f.  Refrain from side conversations when listening in a group setting.
Show you are listening
Use non-verbal responses, body language and gestures to convey your attention. a.  Nod occasionally. b.  Smile and use other facial expressions. c.  Note your posture and make sure it is open and inviting. d.  Encourage the speaker to continue with small verbal comments like yes, and uh huh.
Provide feedback at appropriate times
Our personal filters, assumptions, judgments, and beliefs can distort what we hear. As a listener, your role is to understand what is being said. This may require you to reflect what is being said and ask questions. a.  Reflect what has been said by paraphrasing. "What I'm hearing is." and "Sounds like you are saying." are great ways to reflect back. b.  Ask questions to clarify certain points. "What do you mean when you say." "Is this what you mean?" c.  Summarize the speaker's comments periodically.
Defer Judgment
Interrupting is a waste of time. It frustrates the speaker and limits full understanding of the message. a.  Allow the speaker to finish. b.  Don't put words in their mouth. c.  Don't interrupt with counter arguments. d.  If you find yourself reacting emotionally, gracefully take a break.
Respond Appropriately
Active listening is a model for gentleness, respect and understanding. You are gaining information and perspective. You add nothing by attacking the speaker or otherwise putting him or her down. a.  Be candid, open, and honest in your response but kind. b.  Assert your opinions respectfully. c.  Treat the other person, as he or she would want to be treated.
how well do your group members listen to each other?
As a group leader/facilitator, it's important that you talk about listening with your group and make it a part of their culture.
What does a group look like, in which everyone listens?
a.  No one dominates the conversation. b.  Everyone has a chance to be heard. c.  No time is wasted with unsolicited or inappropriate advice. d.  No one feels the need to jump in with 'their story'. e.  There are no judgmental comments, only gentleness and respect. f.  There is thoughtful, caring listening even when it gets uncomfortable. g.  The group doesn't go off on time wasting tangents. h.  Trivial conversation is kept to a minimal. i.  The focus moves to heart issues rather than staying stuck on problems. j.  Deep friendships are formed. k.  Masks are off. Hearts are open.
Dietrich Bonhoeffer says in his book Life Together, "The first service that one owes to others in the fellowship consists in listening to them. Just as love to God begins with listening to His Word, so the beginning of love for the brethren is learning to listen to them. It is God's love for us that He not only gives us His Word but also lends us His ear. So it is His work that we do for our brother when we learn to listen to him. Christians, especially ministers, so often think they must always contribute something when they are in the company of others, that this is the one service they have to render.  They forget that listening can be a better service than speaking. Many people are looking for an ear that will listen." How sweet it is the LORD listens to us. Psalm 40:1 says "I waited patiently for the Lord; He turned to me and heard my cry."  We too can lend an ear and give this tangible act of love.
Now take a moment to observe the gal in this video clip. What do you observe/hear?
III. How well do you rely on the Holy Spirit?
You might have come to an understanding by now that being prepared is essential.  But equally essential is being open to the promptings of the Holy Spirit, which may involve spontaneity. As a group leader, you have the opportunity to take a group member's response and dig deeper or take the group in another direction of study based on your discernment of the group's need(s). You can also take action for a service project or group activity simply because you felt led by the Spirit to do so. However with freedom in the Spirit comes great responsibility.
The Role of the Holy Spirit in Leading Groups
"An important foundation under-girding the role of a small group leader is the place of the Holy Spirit within the group. Simply put, He is the unseen, but present group member and leader… (The leader's) role is to facilitate the Holy Spirit's ministry in the members' lives through planning and guiding the group's activities…in condensed form, there are seven ministries the Holy Spirit performs…"—Neil H. McBride, How To Lead Small Groups, p. 22. – He indwells—Rom. 8:9-11 – He guides—John 16:13 – He teaches—John 14:26 – He convicts—John 16:8 – He intercedes—Rom. 8:26 – He enables with spiritual gifts—1 Cor. 12:11 – He unifies—Eph. 4:3
So how would you discern the Spirit's promptings to change course within the context of your group?
Here are my thoughts on this. I would like to draw from John 14:15-18 to establish a basis for the role of the Holy Spirit in your group. 15 "If you love Me, you will keep My commandments. 16 And I will ask the Father, and He will give you another Helper, to be with you forever, 17 even the Spirit of truth, whom the world cannot receive, because it neither sees Him nor knows Him. You know him, for He dwells with you and will be in you. 18 "I will not leave you as orphans; I will come to you.
1.  Root your understanding of the Holy Spirit in an authentic love for Jesus. (v.15) The love of Jesus lays a foundation for a proper understanding of the Holy Spirit.
2.  Know you have another Helper. (vs. 16) We get another helper who comes along side of us as a counselor, helper, encourager, advocate or comforter which is what paraklatos means. Jesus is the first paraklatos and the Holy Spirit is another helper who is going to minister like Jesus, a presence in your life forever. Look at the latter part of verse 17. John says that the H.S. will be with us and in us forever.
3.  Trust that the Holy Spirit who is with us and in us forever is the Spirit of Jesus. (v18) How? Because we know they are One! We don't divide them from each other. It isn't that Jesus saved us, and then the H.S. takes over from there. Jesus dwells in us by His Spirit. (Gal. 4:6; Acts 16:7; Romans 8:9; Phil. 1:19)
To this end, you are clear to change course when… a.  You have a clear sense of the Holy Spirit's prompting. b.  You sense your group members' desire to move in a particular direction and have a peace about that. c.  The prompting of the Holy Spirit is in agreement with the Word of God and honors Christ. d.  Your group, on the whole, will be encouraged and blessed as a result of a group member's request to do something different. e.  Your group is willing to deviate from the group's agenda to focus on one of your group member's need(s). f.  When a group member expressing the need asks for help then and there.
On the other hand, it's wise to hold back and stick to the plan when… a.  You and/or your group members are not under the control of the Spirit. b.  The supposed prompting hurts one or more of your group members, either physically, emotionally or spiritually. c.  The group is not in agreement over the proposed new direction for your group to take. d.  Time doesn't permit the new direction to come to fruition. e.  The new plan, discussion or activity will potentially derail the group or its mission and values.
Praying for a Group member:
a.  Ask the person if they would like prayer by the group b.  Trust that the Lord will do a good work through you c.  Discern the needs and concerns before you begin to pray d.  Relax, keep the prayers brief, but at the same time, don't be in too much of a hurry e.  Be sensitive to the weight of people's hands on the one being prayed for f.  Be sensitive to the issue of the men/women when it comes to the laying on of hands g.  Begin by asking the Lord to move and minister to the person h.  Begin by blessing the person in Jesus' name i.  During the prayer time, try to listen anything God may want to say or reveal to the person through you j.  Take time at the end to thank God for any work accomplished, faith invested, healing, answers and revelations
Prayer for some members comes naturally and is already a significant part of their lives. For others, especially corporate prayer can be quite intimidating. To this end, you will want to create a balance with your group prayer time. This balance starts with your ground rules, in which you should have a statement on prayer. It can say something like: "Prayer needs to be offer in short sentences, giving everyone an opportunity and time to pray if they choose to do so." This allows the prayer warriors in your group to pray as often as they would like. But each time they do, their shorter prayers will be less overwhelming to members who are more timid to pray out loud. On the other hand, your less experienced members will become confident, knowing that they only have to pray in short sentences.
Let's dig a bit deeper on taking the fear out of praying out loud
a.  Lovingly and tactfully encourage your group members to pray, but the prayer time always needs to be voluntary. b.  Don't worry if some members choose not to pray at times and allow members to pray as they feel led, rather than going around the circle. c.  Remind your group members that there is no "right" way to pray. d.  Encourage your group members to pray even when they feel powerless. e.  The best rule of thumb to keep is to not ask anyone to pray without prior warning. f.  Allow for silent prayers, especially for new group members or timid ones. g.  Offer a series/study on prayer or at least have a discussion on it periodically. h.  Be sure prayer, preceded by prayer requests is a significant part of your group time. i.  As was mentioned above, use sentence prayers. j.  Motivate your group members in their private prayer lives, which will help to spill over into corporate prayer. k.  Remind your group members to trust in God's sovereignty as they pray. l.  Be a model for prayer yourself. m. Be sure the group knows who is going to start the prayer time and who will close it. n.  Mix it up with a variety of methods for praying.