Elevate 78
7th-8th Grade Ministry
Elevate 78
7th-8th Grade Ministry
Elevate 78
SUNDAYS | 8:45 AM | 10:45 AM | WEDNESDAYS | 6:30 PM - 8 PM
ELEVATE exists to help 7th & 8th graders Take the Next Step in their relationship with God.
We meet for weekend services at 8:45 am and 10:45 am on Sunday morning. Midweek gathering happens Wednesday nights from 6:30-8 pm. In addition, we schedule camps, trips, outreach projects, and other special events throughout the year.
Our ministry is shaped by some core convictions:
God has given everyone the capacity to know him and respond to him in faith, regardless of their age.
We need to be innovative. Studies have shown that most kids who go to church will walk away from their faith as young adults. We can't just do the same old thing and expect different results.
Parenting an early adolescent is a different beast. We want to support parents in meeting this challenge, through classes, seminars, and parent networking.
One of the biggest needs of early adolescents is the presence of caring adults in their lives.
7th & 8th grade kids need chances to discover and develop their gifts, and opportunities to do ministry out in the world.
Discipleship
DX – Discipleship Experience
DX-1 is a self-paced, partner-based discipleship plan, meant to train you at getting REALLY good at spending time with God. In the first stage, you and a partner work your way through some introductory units: Heart, Influences, Relationships, God, the Cross, Time, and Will. In the second stage, you and your partner will work through the challenge of spending time with God for 40 days, using readings from a resource called Awesome God. Once a week you will meet together with a discipleship coach (you can pick this person when you sign up, or we can assign someone to you) to talk about how it's going.
Serve With Us
WE ARE ALWAYS LOOKING FOR AMAZING LEADERS TO JOIN OUR TEAM!
If you are interested in being a volunteer leader with us, check out the requirements below.
Must be a committed, growing Christian.
Must be graduated from High School.
Must understand what Middle School kids need from a leader – not someone to tell them what to do, but someone who can be a supportive resource and a listening ear.
Must complete our application, interview (we want to get to know you first!), and background check. Email us below and we will get the application to you!
Devotionals
Here's a list of devotional resources for your 7th or 8th grader! Click the link below for our suggestions!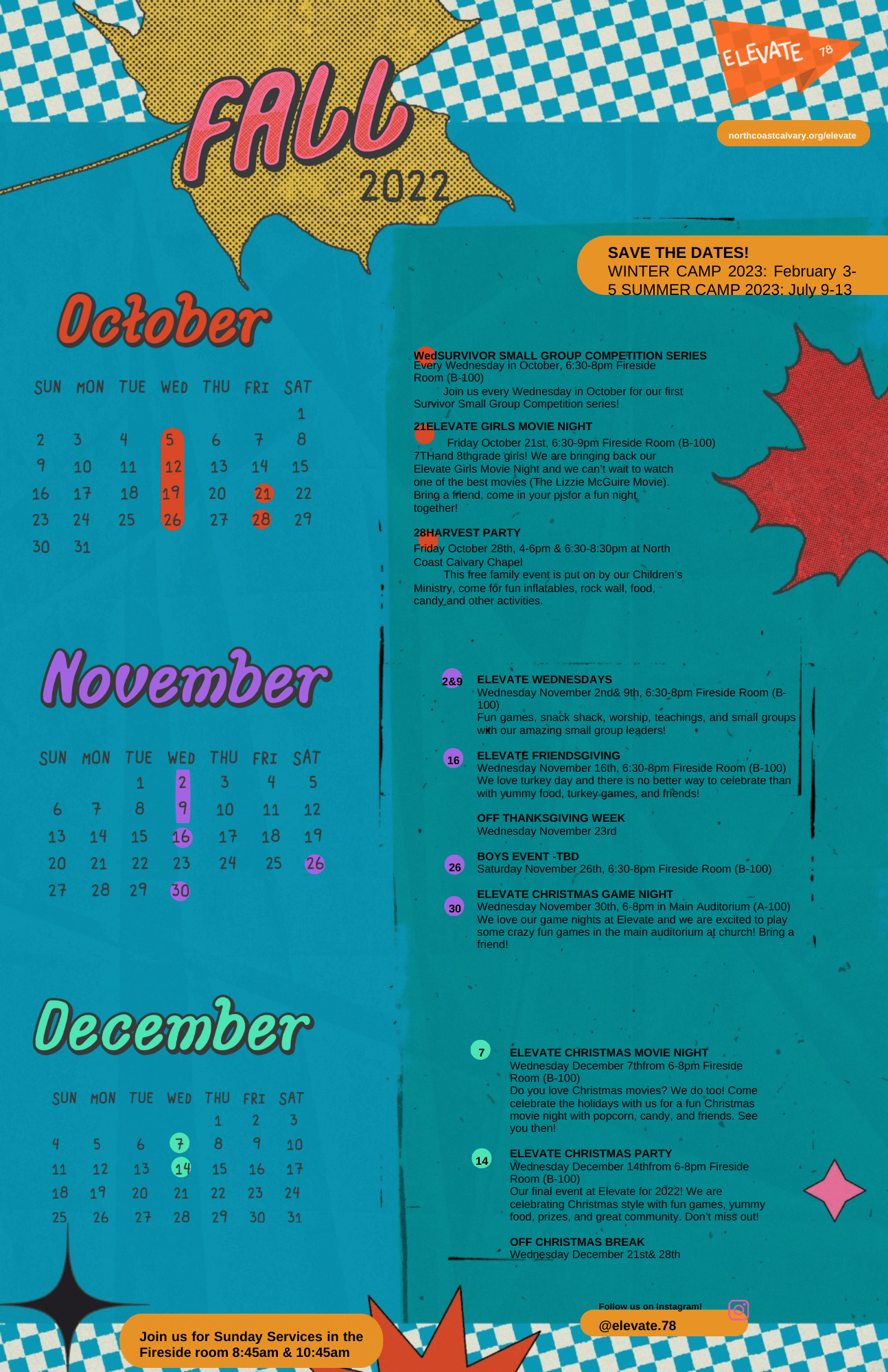 Elevate Wednesdays
Every Wednesday from 6:30pm-8pm in the Fireside room we get together to play games, worship, and talk about Jesus.
In Elevate 78, we believe that small groups are an amazing way to connect with not only other students and leaders, but most importantly with Jesus. We spend time in the word discussing last weekend's message in depth, while also creating the space for students to think critically and openly ask questions. Our aim is to challenge students in their faith and to give them a deeper understanding of their relationship with Jesus. 
We hope to see YOU there!
Boys Night
Looking for something to do after you've eating all the turkey that you can handle?
Boys it's finally your night to hang, watch some movies, and play some Super Smash Bros!
We'll have some food and snacks for you to munch on. Bring yourself and a friend! No sign up or cost.
Christmas Game Night
We're kicking off the Christmas season with a game night in the Family Center!
Come dressed in your jolliest of attire because we're gonna have a good time.
See you there!
Friendsgiving
Come join us for a Christmas Movie Night
We'll be watching one of the best sequals ever, Home Alone 2: Lost in New York
We'll have a hot coco bar, popcorn, candy, and a great time!
Bring a friend and we'll see you there!
Christmas Party
The time has come for us to celebrate the Christmas season together! 
It's gonna be a jam packed night of games, Christmas karaoke, raffles, ugly sweaters, food, and fun.
Make sure to wear your ugliest sweater and you could be the big winner. If ugly sweaterS ain't your thing then just come in you favorite Christmas gear.
We can't wait to party with YOU!
Winter Camp 2023
Winter Camp 2023 is here!
Elevate 78 will be joining other churches for winter camp on February 3rd-5th at Camp Pondo in Running Springs.
Winter Camp at Pond is centered around the Glory of Jesus. Hundreds of Jr High students gather each weekend for an amazing time of worship, teaching, community and epic free time. Students will be encouraged and challenged to live a life that's leveraged for the Glory of Jesus at they get to encounter Jesus in a unique way!
Students will also get to participate in activities like tubing, zipline, giant swing, rock climbing, arts & crafts and snacks Friday and Saturday night!
Cost: $299
Click the link below to register!
Poster Contest
Your student is invited to participate in a poster contest! Use the sheet we sent home or your own 8.5×11 or 9×12 to create their own picture illustrating the verse JAMES 4:17. Make sure you put your name and grade on the back! Must be original artwork, no downloaded images.
Posters are due no later than
Sunday OCT 24th!
Prizes include
1st – $30 Chick-fil-A gift card
2nd – $20 Chick-fil-a gift card
3rd – $10 Chick-fil-a gift card
THREE WINNERS PER GRADE!
Please fill out our volunteer interest form