OUTDOOR ADVENTURE
ENJOYING GOD IN HIS CREATION WITH FRIENDS
HIKE: Sept 25 Hot Springs Mountain with Switchbacks
HIKE: October 2 at Bridge to Nowhere
The Bridge to Nowhere hike goes along the clearly marked East Fork Trail on the San Gabriel River.  The trail goes back and forth across the river (cross on logs and rocks – and maybe get a little wet!)  We may also see big horn sheep, waterfalls and pools in addition to the beautiful bridge (and a company for bungee jumps).
Meet at the trailhead at 7:45am
Distance: 11 miles
Time: 4-5 hours
Difficulty: Moderate
Elevation gain: 1,140 ft
Dogs: Yes
LOCATION: Parking lot at Camp Bonita Rd, La Verne, CA 91750
DIRECTION LINK: HERE
DIRECTIONS:  ~ 90 miles / 1.5 hour drive
Take I-5 North ~47 miles
Follow signs keeping left for Santa Ana ~13 miles.
Use the right two lanes to take Exit 107A for CA-57 N toward Pomona ~ 18 miles
Keep right at the fork to stay on CA-57 N, follow signs for Freeway N  ~ 7.5 miles
Use the left 3 lanes to take Exit 25C to merge onto I-210 W/Foothill Fwy toward Pasadena ~ 5 miles.
Take Exit 40 toward Azusa Ave/CA-39. Continue straight onto Alameda Ave ~ 33 miles
Turn left on E 2nd St then right onto State Rte 39 N/N Azusa Ave (San Gabriel Canyon Rd) ~ 11.5 miles
Turn right on E Fork Rd 5.2 miles
Turn left onto Camp Bonita Rd. to the parking lot and trailhead.
Led by:  Orville Stanton
TENT CAMP: October 8-11 Sedona
Friday October 8 – Monday, October 11: Sedona Camping Trip – Pine Flat Campground West
We've reserved sites for about 25 – 30 people to go on this new adventure!
Location: 12248 N. SR 89A, Sedona, Arizona 86336   14 miles south of Flagstaff, 13 miles north of Sedona in Scenic Oak Creek Canyon.
Attractions:  Camping, fishing, swimming/wading, hiking, sightseeing, wildlife viewing, photography.
Register:  HERE
Orientation Meeting:   Sunday, September 26, 12:45pm Room C-105.  If you are registered, plan to attend this mandatory meeting to meet fellow campers, discuss gear, plans, things to do, sites, etc.
Sedona Visitor Guide:  Here
Recreation Guide:  Here
Red Rock Recreation Maps:  Here
Overview Map of Sedona and Oak Creek Canyon:  Here
Mogollon Rim Trails A-K (lots of options!):  Here
Red Rock Trails L-Z (lots of options!):  Here
Scenic Drives:  Here
Led by:  Orville Stanton
WALK: October 9 at Encinitas Ranch Trail
CORRECT DATE AS OF 9/20/21:
Saturday, October 9, Encinitas Ranch Trail, 8:45am, Quail Hollow Drive, Encinitas
Let's enjoy a beautiful fall day together. This will be a casual walk on the old Ecke Ranch property. We'll travel through Indian Canyon, the golf course to the ridge line (great views!). We plan to go about 5 miles and take about 2 or 3 hours.
DIRECTIONS:
From I-5 & Leucadia Blvd: Go East to Quail Gardens Drive then North (left) (as it curves west it becomes Quail Hollow Drive). Shortly before you get to Saxony there is a yellow gate just past a brown gazebo on the left side.  Park on the street.
From I-5 & La Costa Ave:  Go East then go South on Saxony and turn left on Quail Hollow Drive. There is a yellow gate just past a brown gazebo on the right hand side.  Park on the street.
RAIN: We will not walk if it is raining.
RESTROOMS: No
SPECIAL NOTE:  There is one part that would not be good for wheelchairs, and one part where a stroller would need to be carried over.
DOGS:  Allowed on leash but there are thorns on part of the trail.
WHAT TO BRING: Hat, water, sunscreen, sunglasses, light clothing, sturdy shoes, snacks, camera.
Walking is good for our soul. God can slow us down and make us more open to hear and see Him. 
WALK: October 16 at NCCC for India Widows and Orphans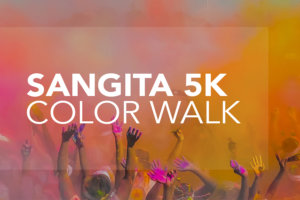 This walk is a fundraiser for widows and orphans in India served by our partner in India: Sangita Ministries. This is a great event for families or teams of people (but singles are great too!) and there will be (optional) colored powder thrown at participants…a famous Indian tradition. Indian lunch and shopping plus entertainment follow the walk.
While walkers are our first priority since this is a fundraiser, we are also looking for volunteers.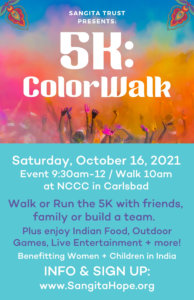 HIKE: October 16 Mission Trails with Switchbacks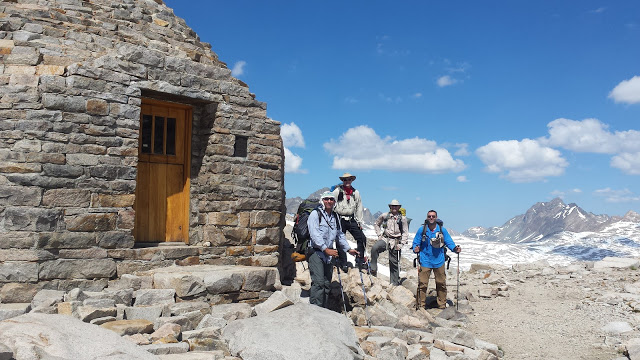 HIKE: November 6 at Lake Hodges
Join us on Saturday, November 6th for an 8.3 mile hike.
Piedras Pintadas / Bernardo Bay Trails
Directions:  78 East to 15 south to Sunset Dr. to Parking lot near the Sikes Adobe house
Maps (coming soon)
Led by:  Orville Stanton
Sign up for OA e-updates (below).
HIKE: November 6 Corte Madera Mountain with Switchbacks
WALK: November 13 at San Elijo Lagoon Ecological Reserve
Dates and locations are subject to change – sign up for OA e-updates (below) or check back here.
November 13:  San Elijo, 8:45am – come a few minutes early. 
Meet at:  La Orilla Trailhead, 16398 El Camino Real, Rancho Santa Fe, CA 92091 
MAP: https://maps.app.goo.gl/mCyoGxKMnthnNgM7A
ADA Accessible
Led by:  Peter Booth and Larraine Mariano
HIKE: December 4 Calavera Hills with Switchbacks
HIKE: January 8 Iron Mountain with Switchbacks
HIKE: February 5 Cedar Creek Falls with Switchbacks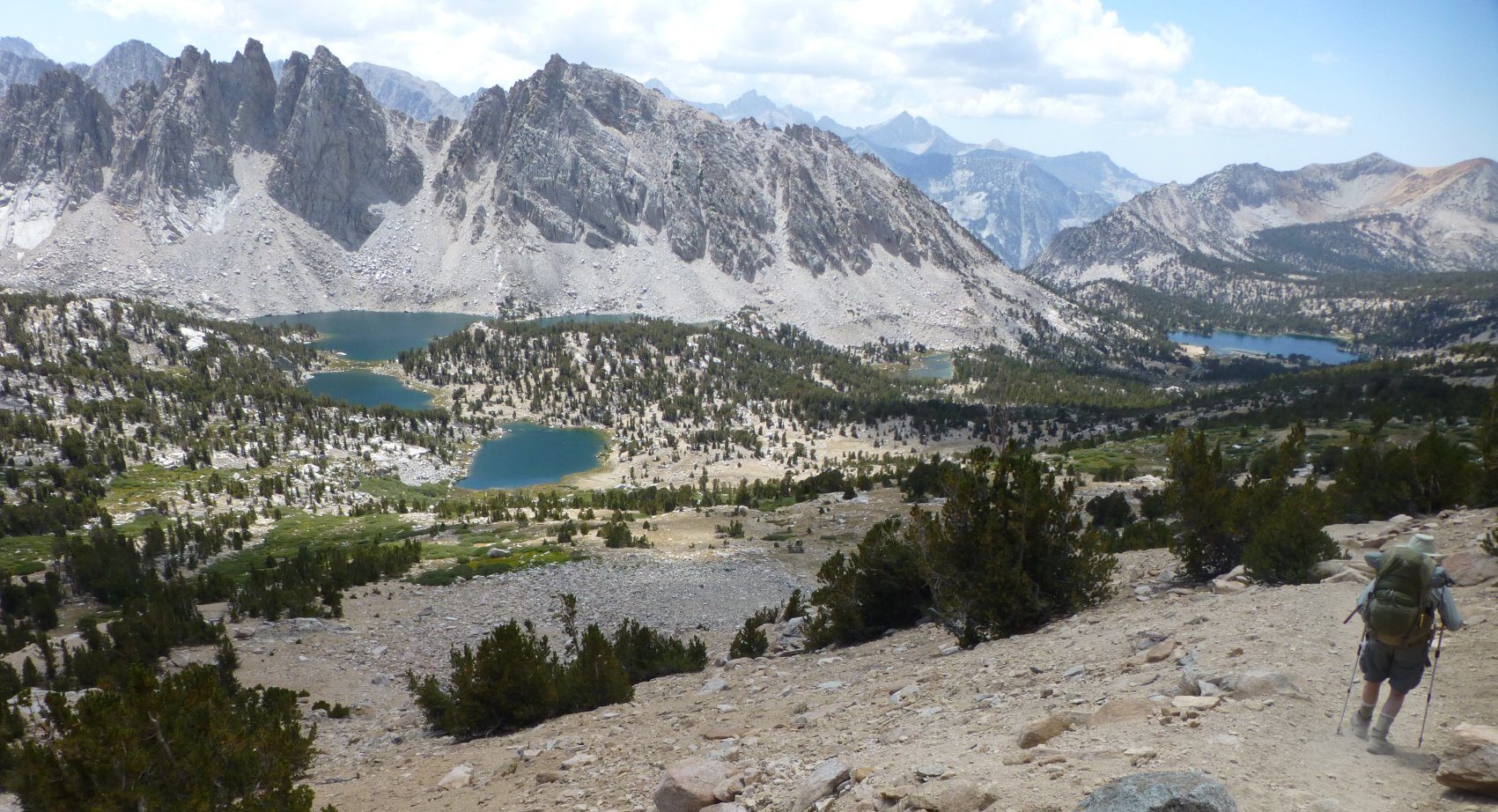 Backpacking Essentials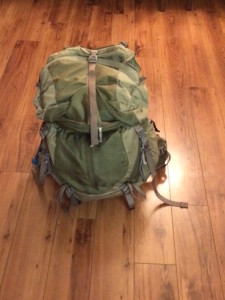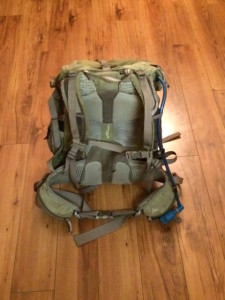 Backpack with all the gear plus 2 liters of water. It weighs out at 15 lbs. I used my regular backpacking pack as my daypack, gained a few lbs, because I don't have a 30 liter pack anymore only the 54 liter one.
Gear and Essentials Info from REI
More Tips
How to Minimize Your Footprint
Taking Your Kids Camping and Hiking
MORE:
Use moving blankets (purchase at Harbor Freight $5) use as table cloth, area rug for tent and pad under air mattress.

Durable/comfortable cot – the brand is Kingdom Cot from REI or Amazon.
Cooking – use oil spray instead of liquid cooking oil
If there are no showers at a campsite. Use Body Wipes instead (it is more refreshing than shower) and dry shampoo spray available in Walmart at the elder section.  (For Big Bear camping – Serrano Campsite across the lake has showers – bring quarters.)
Towels – use quick dry towels, which are available in many stores.
Keeping your cooler cold: This will help to reduce the number of times you need to replace ice in your cooler,  Here's a tip to keep the ice and food cold for 4-5 days.

Cool the cooler 24 hours prior to use.
Insulate the cooler – pictures below: