OUTDOOR ADVENTURE
ENJOYING GOD IN HIS CREATION WITH FRIENDS
Rescheduling to a later date - Pacific Crest Trail Hike - 20 Miles
The PCT Hike will be rescheduled -, but be sure to take a hike near home – with 6′ social distancing from all you meet.  Maybe a prayer walk to cover your neighborhood!
This is a great opportunity to experience the start of the 2650 mile Pacific Crest Trail (PCT) that goes from Mexico to Canada with Pastor Orville. In addition to getting in shape and ready to do the 20-mile day hike in April, you will learn essential hiking skills and maybe be inspired to complete the next 2630 miles
__________________
Leaving details below for us to use for our rescheduled trip when the date is set 
6:30a from the Pacific Crest Trail South Terminus at the Mexico Border hiking to Lake Morena Park. 
Meet at Lake Morena and we'll shuttle to the border:  2550 Lake Morena, Campo, CA 91917
FROM CARLSBAD: 76 miles/allow 2 hours drive time. I-5 South, I-805 South, CA 52 East, CA 67 South, I-8 East, S-1 Buckman Springs Rd, turn right onto Oak Drive to Lake Morena Drive turn left and park in 0.5 miles 2550 Lake Morena, Campo, CA 91917
FRIDAY OPTION:  camp at Lake Morena Campground  Reserve your own campsite here:
http://www.sdparks.org/content/sdparks/en/park-pages/LakeMorena.html
Date –  Campers' Dinner is canceled – plan to bring and prepare your own meal.
SATURDAY OPTION:  Meet Orville at the PCT Parking Lot at Lake Morena by 6:00 am. 
REGISTER FOR THE HIKE BY EMAIL  terri@northcoastcalvary.org  (name(s), cell #, which option (Friday or Saturday)
PCT FLYER
May 2: Mt Woodson Hike - 8 miles
Saturday, May 2, 7:30am from the trailhead
Our Hike Plans: Lake Poway Recreation Area to Mt Woodson and back. This will be a strenuous hike, going 7.8 miles with an elevation gain of 2300 feet.  Starting at 7:30 am the hike will take 3 to 4 hours.
Led by Orville Stanton
Directions from NCCC: Take Aviara Pkwy North to Palomar Airport Road East, continue onto W San Marcos Blvd, Turn on to Hwy 78 East, Exit Hwy 15 South toward San Diego (go 7.8 miles), Exit at Rancho Bernardo Rd and turn Left (go 1.7 miles), continue onto Espola Rd (go 2.3 miles), turn left (east) onto Lake Poway Rd to Lake Poway Recreation Area, 14644 Lake Poway Road, Poway, CA 92064
Parking:  There is a non-resident parking fee at Lake Poway weekends and holidays only. Poway residents are free with valid proof of residency and may obtain a resident sticker at the Lake Poway entry station or office. Active military personnel, with ID, are free. Free parking is available at an overflow lot at the bottom of Lake Poway Road.
June 6: Julian Hike
Saturday, June 6, 8:45a 
OUR PLANNED HIKE is a moderate to a moderate+ hike with a 700 ft. elevation change. It is about 5.4 miles. There is also an option of a 3.2 mile hike. Afterwards, let's browse around town and stop to enjoy some tasty Julian Apple Pie.
We will meet at the trailhead sign of Volcan Mountain at 8:45a
DIRECTIONS: From Carlsbad, take Hwy 78 east to I-15 south to Via Rancho Parkway. Go east or left to San Pasqual Valley Rd. Follow this into Ramona, and then take a left on Main Street, which becomes Julian Rd. Go through Santa Ysabel and just after Springview Rd., you will turn left on Wynola Rd. Take a left on Farmer Rd. (before this left there is a Farmer Rd. that goes right – don't take that one) then go a few yards and park on the side of the road on the right near the gravel path. Plan about 1hr and 45 min for the drive from Carlsbad.
TRAIL DESCRIPTION: Trail is rocky, so wear sturdy shoes with good tread. Not suitable for strollers or wheelchairs.
RAIN: We will NOT hike if it is raining.
RESTROOMS: No restrooms or water are available at the trailhead or on the trail.
BRING: Water, snacks, sunscreen, sunglasses, light clothing, sturdy shoes, camera.
ENJOY JULIAN: Bring a little spending $ to enjoy Julian with us after the hike.
NO RSVP is needed… just mark your calendar, invite friends and family and meet us there!
Walking is good for our soul. God can slow us down and make us more open to hear and see Him. We look forward to being on-trail with you.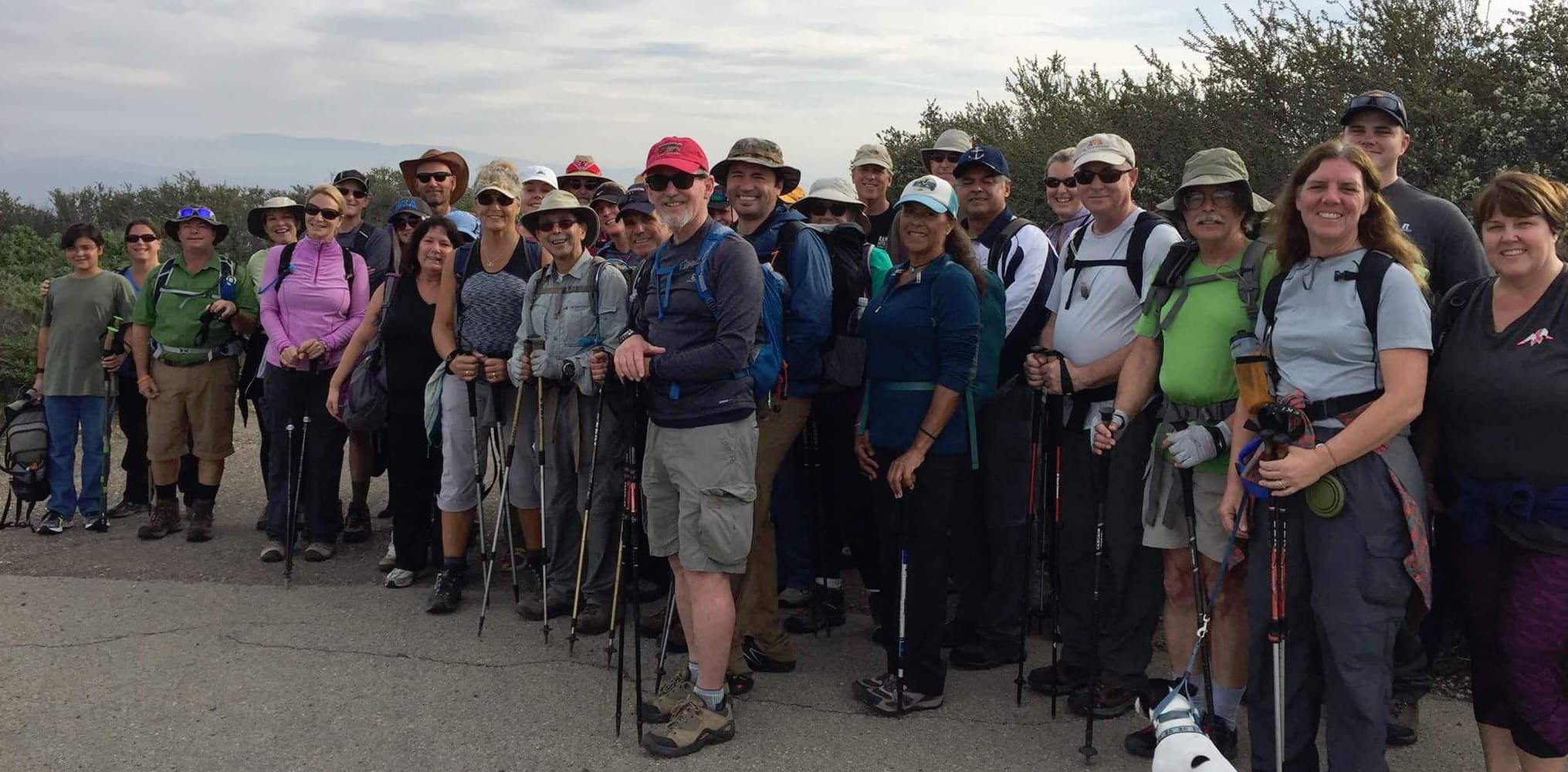 CANCELED April 11: Carlsbad Beach Walk
THIS WALK IS CANCELED WE LOOK FORWARD TO WALKING WITH YOU AGAIN.  TAKE TIME TO PRAYER WALK YOUR NEIGHBORHOOD WHILE KEEPING A SAFE 6′ DISTANCE FROM YOUR NEIGHBORS – YOU ARE IN OUR PRAYERS
Saturday, April 11 meet at Cannon Park (corner of Carlsbad Blvd & Cannon Road) ready to walk by 8:30 am.
We'll be walking from Cannon Park to Carlsbad Village Drive and back (4 miles total).  The walk has a slight incline going north but is wheelchair and stroller friendly (sidewalk).  We will NOT walk if it is raining. There are restrooms and drinking fountains at Cannon Park, and near the 1 mile mark (at Tamarack) and in the restaurants at the 2 mile mark.
Bring: Hat, water, sunscreen, sunglasses, light clothing, sturdy shoes, snacks or money for a stop in the Village, and a camera to capture the beauty!
Dogs: Ok on leash
No RSVP needed. Invite friends (or come and meet new friends!) and join us! Carpooling is recommended.
Walk Leaders:  Peter Booth & Larraine Mariano
Calavera Hills Newsletter - check out the owl!
May 9: Calavera Hills Walk
Saturday, May 9, 8:30am starting from Oak Riparian Park – 4625 Lake Blvd., Oceanside, CA
Our walk will be a maximum of 5 miles with one hill with an elevation gain of about 300′.   We'll take the Oak Riparian Loop and Lake Loop Trails and go around Lake Calavera by the dam.  There are few viewpoints that we will be able to take in. 
NO RSVP is needed. Invite friends (or just come and meet new friends!) and family and join us!
DIRECTIONS:  from NCCC go north on I-5, go east on Hwy 78, exit College Ave South, turn left on Lake Blvd. Go past Emerald Drive to Ridge Road.  Oak Riparian Park (and the parking lot) will be on the right at the corner of Ridge Road and Lake Blvd.   
RAIN:  We will NOT walk if it is raining.    
RESTROOMS: at the parking lot 
ACCESSIBILITY:  Not accessible for wheelchairs or strollers  
BRING: Hat, water (bring as there is only water at the parking area), sunscreen, sunglasses, light clothing, sturdy shoes, snacks, and a camera to capture the beauty!
DOGS: Ok on leash 
June 13: Torrey Pines Walk
OUR PLANNED WALK: We will start at 8:30 am from the beach parking area at the base of the hill; you can find free parking or pay to park in the parking lot. We will walk up to the Visitor Center (3/4 mile up a steep hill). Some may want to park in the lot and meet us at 9:45 am at the Visitor Center. We will combine the Razor Point Trail, Yucca Point and the Beach Trail, and then finish by walking on the surface road back to the Visitor Center. Afterward you can explore the exhibits of the natural and cultural history of the reserve at the Visitor Center museum before walking down hill to the parking lot. Approximate round trip distance is 5.5 miles.

 

FROM CARLSBAD: I-5 South to Del Mar Heights Rd exit. Turn right. The road ends at the Coast Hwy. Turn left (south) about 1/2-mile and to the entrance to Torrey Pines State Reserve, 12600 North Torrey Pines Rd, San Diego, CA 92037  GPS: 32.92183

 

TERRAIN: If you park and meet us at the bottom of the hill plan for a steep walk at the Visitor Center. Mostly sandy and hard surfaces, and very rocky in several areas; wear closed-toe shoes with good traction.

 

PARKING:

·     For free parking, there are spaces available along Coast Highway right before you enter Torrey Pines State Reserve if you don't mind the longer steep walk to the Visitor Center.

·     Paid parking at South Beach parking lot

·     North Beach Parking has hourly rates

 

RESTROOMS: Located in the lower lot and at the top near where we will be meeting.

 

CHILDREN: are welcome at your discretion.

 

PETS: are not allowed even in vehicles.

 

WHEELCHAIRS or STROLLERS: no

 

BRING: Lots of water (no food allowed in the reserve), hat, sunscreen, sunglasses, light clothing layers, sturdy shoes, lip balm, camera.

 

 

LED BY: Peter Booth and Larraine Mariano

 
July 11: San Dieguito Park Walk
Saturday, July 11, 8:30am
All levels of walkers are welcome. This is a nice walk with small hills, beautiful scenery and views.
Directions: I-5 to Lomas Santa Fe Drive. Go east for 1½ miles, turn left on Highland Drive to El Camino Real, then go right to the park which is on your right.
Parking: Paid lot doesn't open until 9:30a so we'll park on the street for free.
Rain Plan: No walk if raining.
Restrooms: Near parking area.
Children/Strollers: at your discretion.
Bring: Water, snacks, hat, sunscreen, sunglasses, sturdy shoes.
August 8: Annie's Canyon Walk .
Details coming soon
8:30a
Sep 12 – Oceanside Harbor Walk
Oceanside Harbor Beach Walk
Saturday, September 12, at 8:30aam
Harbor Drive North, Oceanside, CA 92054 
OUR PLANNED WALK: Starting from the parking lot next to the Jolly Roger, we will follow the sidewalk along the harbor, passing shops and restaurants, continuing on to Pacific Street to the Strand which runs along the beach. We will walk along the beach to the pier, then up the ramp and walk to the end of the pier and back, then continue walking south to Wisconsin Street at which point we turn around and return along the same route The entire walk is a 10K walk/6 miles. Walkers may turn around at the pier if a shorter walk is preferable. It's a very moderate walk along sidewalks with the only incline up the ramp to the pier and down.  
NO RSVP needed… mark your calendar, invite friends and family and meet us there.
DIRECTIONS: From Carlsbad, take I-5 north, merge onto Harbor Drive via exit 54c towards Oceanside. Turn left onto Harbor Drive and proceed around the harbor until you see the Jolly Roger Restaurant and turn into the parking lot just before you get to the restaurant.
PARKING AREA: The address for Jolly Roger is 1900 Harbor Drive. We will park in the public parking lot just before you get to the Jolly Roger.
RAIN: We will NOT walk if it is raining.
RESTROOMS: In the Harbor shopping/restaurant area and along the beach in two locations.
ACCOMMODATIONS FOR DISABLED: Wheelchair accessible
CHILDREN AND STROLLERS: Yes
WHAT TO BRING: The usual stuff – hat, water, sunscreen, sunglasses, light clothing, sturdy shoes, snacks, camera. Bring water, plus whatever you wish to eat on the walk. Restaurants are plentiful in the Harbor shopping area.
Oct 10 – Encinitas Ranch Trail
Encinitas Ranch Trail Walk
Saturday, October 10 at 8:30am 
Quail Hollow Drive, Encinitas
Let's enjoy a beautiful fall day together. This will be a casual walk on the old Ecke Ranch property. We'll travel through Indian Canyon, the golf course to the ridge line (great views!). We plan to go about 5 miles and take about 2 or 3 hours.
DIRECTIONS: From I-5 & Leucadia Blvd: Go East to Quail Gardens Drive then North (left) (as it curves west it becomes Quail Hollow Drive). Shortly before you get to Saxony there is a yellow gate just past a brown gazebo on the left side.  Park on the street. 
From I-5 & La Costa Ave:  Go East then go South on Saxony and turn left on Quail Hollow Drive. There is a yellow gate just past a brown gazebo on the right hand side.  Park on the street. 
RAIN: We will NOT walk if it is raining.
RESTROOMS: No
SPECIAL NOTE:  There is one part that would not be good for wheelchairs, and one part where a stroller would need to be carried over.
DOGS:  Allowed on leash but there are thorns on part of the trail. 
WHAT TO BRING: Hat, water, sunscreen, sunglasses, light clothing, sturdy shoes, snacks, camera.
Nov 14 – San Elijo Lagoon Ecological Reserve Walk
Saturday, November 14 at 8:30am 
One of the few remaining coastal wetlands in San Diego County and is home to many plants and animals and is especially know for it's rare and migratory birds (bring your binoculars!).  We will be doing a 2 mile walk (4 miles round-trip)
NO RSVP is needed… 
DIRECTIONS:
Meet at:  La Orilla Trailhead: 16398 El Camino Real, Rancho Santa Fe, CA 92091
RAIN: We will NOT walk if it is raining.
RESTROOMS:  No
ACCOMMODATIONS FOR DISABLED:  Not appropriate for wheelchairs.
CHILDREN AND STROLLERS: Yes (some can be done pushing a stroller)
WHAT TO BRING: Water, snacks, sturdy shoes, a hat, sunglasses, and wear sunscreen and dress in layers. Cameras and binoculars are optional but great fun!  
DOGS:  OK on 6′ leash.  
LEADERS:  Peter Booth & Larraine Mariano
Tent camping is a great time to relax, explore, and enjoy friendships old and new in God's creation.
Memorial Day Weekend Tent Camping May 22-25
Idyllwild Park, Friday (check in 2pm) to Monday (check out noon)
OUR PLANNED CAMPING AND HIKING EXPERIENCE: Idyllwild County Park is 202 acres of beautifully wooded environment and includes showers, restrooms with running water, fire rings with half-grills and picnic tables. It's on the edge of the town Idyllwild so modern amenities are close by. There are five miles of hiking trails that wind through the park, including an easy half-mile trail that connects the campground with the county-run Nature Center. This is a great place for family and group fun! We will have morning and evening devotions and a Saturday Evening worship service. Kids can ride bikes on the roads around the campground; nature center visits, Ranger led hikes and walks in local area. We will also have our own group hikes that will be announced at the morning devotionals. It's a great time to build community, make new friends and enjoy God's creation.
DIRECTIONS: There are variations on the drive, but this is the recommended route, a two-hour drive from NCCC to Idyllwild: Take I-5 North to Highway 76 East to I-15 north to 79 south (right) to Highway 371; turn left (through Anza Valley). Take Highway 74 East or left toward Idyllwild. Then take Highway 243 to the outskirts town of Idyllwild. Turn left on Riverside County Playground Road into County Park. (Approximately 100 miles)
AMENITIES: Drinking water, telephone, flush toilets, showers (require quarters), picnic tables, fire rings.
ADDRESS: Idyllwild Park, 54000 Riv. Co. Playground Rd., Idyllwild, CA 92549 (951) 659-2656
ORIENTATION:  May 17, 1PM, Room C-205B   You will meet your fellow campers, discuss gear, activities, directions, campsite arrangements, etc and answer your questions.
CAMPSITE FEES: For weekend: $40.00 per adult, $15.00 for children 3 and up.
REGISTER  HERE
Lake Morena Tent Camping June 26 - 28
details soon
Jun 26-28, 2020 –  Lake Morena  (Orientation June 14)
Labor Day Weekend Tent Camping Sept 4 - 7
Sep 4 -7, 2020 – Labor Day Weekend at Big Bear Pineknot Campground
An All-Church Favorite! A great trip for everyone!  Families, single parent families, singles, couples, and YOU!
You'll enjoy a Saturday potluck, a worship & communion service, morning devotions, group campfires, fellowship, lots of fun adventures, and of course plenty of hiking, walking, and relaxing with friends! Adults: $40 each , Children age 3 & up: $15 each  Register HERE     
Flyer HERE  
Orientation Meeting:  August 30, 1pm at NCCC  Registered campers come and meet the other campers, discuss the trip plans, directions, gear, etc.
Adventure IdeasThere are lots of fun activities at Big Bear.  Go online and order a Visitor Guide at:  http://www.bigbear.com/visitor-guide/ Alpine Slide & Waterslide, biking, mountain biking, bowling, fishing, golf, miniature golf, tennis, go-carts, horseback riding, stables, petting zoo, animal park, tours, Flying Bear zip-lines, workshops, hobbies, Paddlewheel Tour Boat, Shopping, Walks / Hikes / Trails, Board Games or Books (bring!), Off-Road, Sky Chair, Picnic, Beach, Boating: Canoe, Kayak, Paddle Boats, Pontoon, Sail, Speed, Water-ski, Parasail (let us know if you are bringing watercraft), Discovery Center: tours, exhibits, learning activities, shopping, Big Bear Historical Museum, Solar Observatory
Future Tent Camping Trips
Oct 8-12, 2020  – CANCELED Sedona, Arizona (Chavez Crossing)
 
Oct 2021: Grand Canyon (pending)
MORE:
Use moving blankets (purchase at Harbor Freight $5) use as table cloth, area rug for tent and pad under air mattress.

Durable/comfortable cot – the brand is Kingdom Cot from REI or Amazon.
Cooking – use oil spray instead of liquid cooking oil
If there are no showers at a campsite. Use Body Wipes instead (it is more refreshing than shower) and dry shampoo spray available in Walmart at the elder section.  (For Big Bear camping – Serrano Campsite across the lake has showers – bring quarters.)
Towels – use quick dry towels, which are available in many stores.
Keeping your cooler cold: This will help to reduce the number of times you need to replace ice in your cooler,  Here's a tip to keep the ice and food cold for 4-5 days.

Cool the cooler 24 hours prior to use.
Insulate the cooler – pictures below: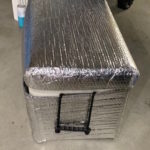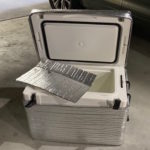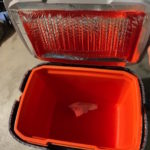 FUTURE TRIPS
Jun 13-15 – San Bernardino Mountains – Craig (Orientation Mtg: June 7)
Jul 29-August 1 – Lake Sabrina  – Mike  (Orientation Mtg: July 19)
Backpacking Essentials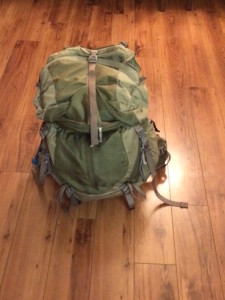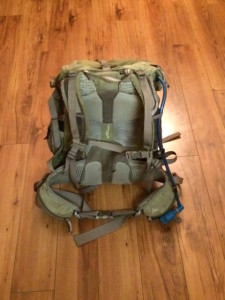 Backpack with all the gear plus 2 liters of water. It weighs out at 15 lbs. I used my regular backpacking pack as my daypack, gained a few lbs, because I don't have a 30 liter pack anymore only the 54 liter one.
Gear and Essentials Info from REI